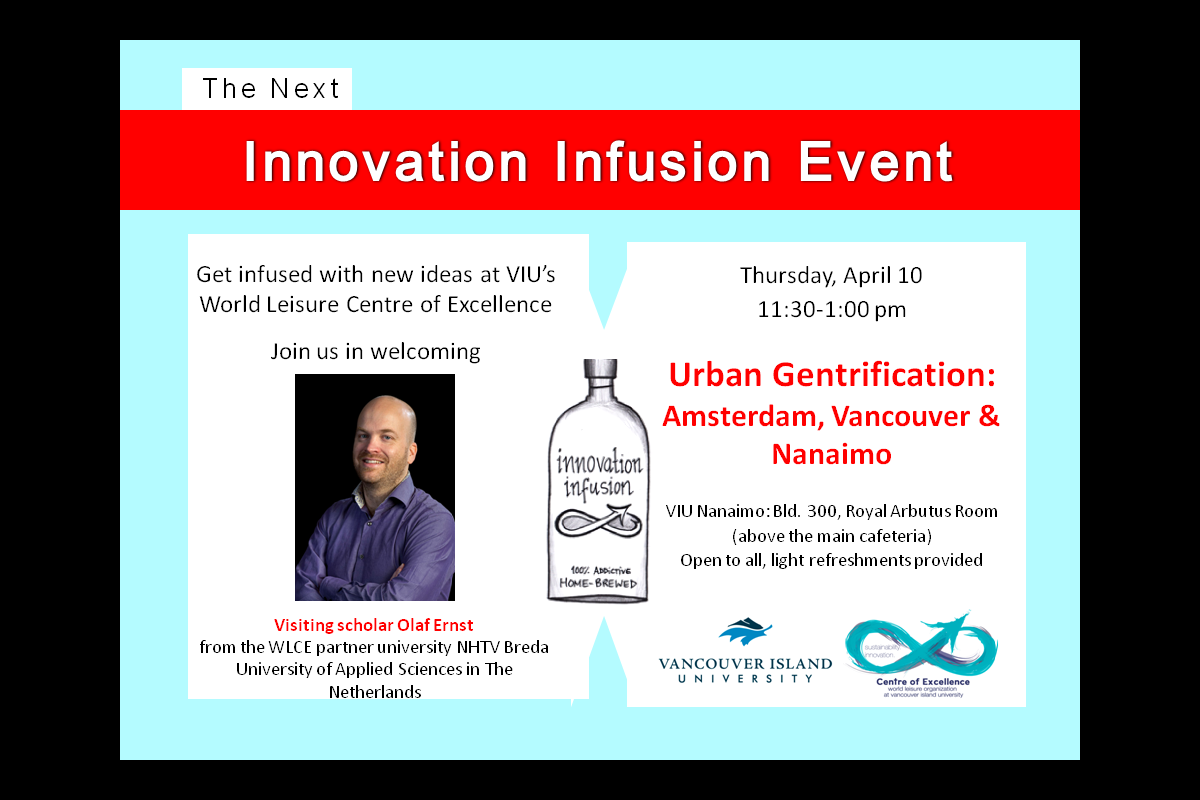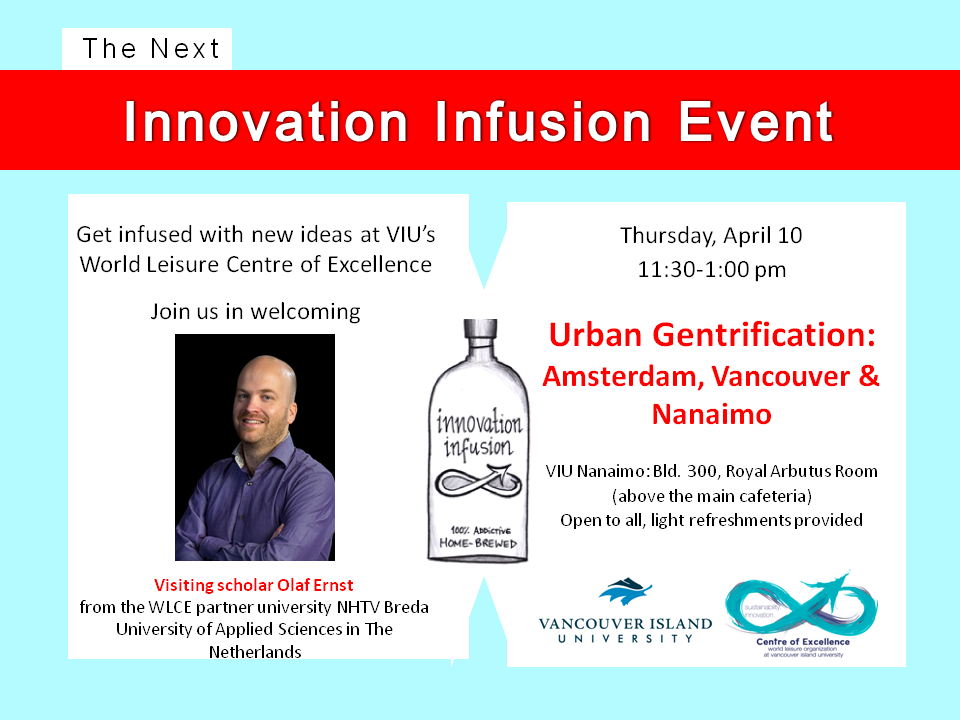 The Speaker
Olaf Ernst is a visiting scholar from the WLCE partner university NHTV Breda University of Applied Sciences in The Netherlands and will be with VIU Nanaimo for the 2014 spring semester. During his stay at VIU he has been involved in co-facilitating courses at the undergraduate and Master's level, conducting research on gentrification in Vancouver and Nanaimo and preparing further cooperation between the two institutes. Olaf has an undergraduate background in inbound tourism and a Master's degree in Human geography with a specialization in Urban geography. At his home university Olaf has been a lecturer for more than 11 years at the Academy for Leisure. He has chaired the International Leisure Management program until recently and taught classes in the field of stakeholder management, network analysis, project management and Imagineering. In addition to the leisure aspects of gentrification, his research interest is in the field of processes within the development of multi-functional leisure locations, spatial developments in former railway areas and urban leisure in general.

The Topic
Gentrification is one of the biggest forces affecting contemporary cities and neighbourhoods. The class-based remake of urban space is impacting many different aspects of city life. The majority of the gentrification literature tends to centre on housing, specifically on issues such as the preferences and habits of middle-class gentrifiers. However, the impact of gentrification spreads far beyond the housing realm.

This public lecture examines commercial spaces and how they both reflect gentrification's spread and how these changes are experienced by entrepreneurs, non-gentrifiers and other (governmental) stakeholders. This lecture will examine the interactions, conflicts, divisions and evaluations of gentrification for three cities: Amsterdam, Vancouver and Nanaimo. For Amsterdam, the most in-depth case study, this lecture will look at the impacts of gentrification through the lens of local, working-class pubs specifically. This lecture is concerned with the individual experiences of gentrification: is it viewed as a threat, or does it bring perceived improvements to the neighbourhood?

What is an Innovation Infusion Event?
Throughout the academic year, visiting scholars and guest speakers such as Olaf Ernst offer public presentations, which fulfil part of the mandate of the World Leisure Centre of Excellence (WLCE) at Vancouver Island University to offer both our students and our community the opportunity to learn from the experiences and research of local, national and international scholars and practitioners through public presentations. Innovation Infusion Events are free and open to all. Light refreshments will be provided.