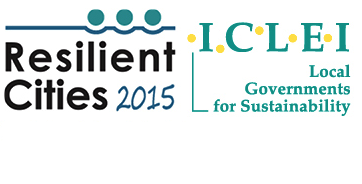 Resilient Cities 2015 Call for Contributions is now open
ICLEI – Local Governments for Sustainability, the World Mayors Council on Climate Change, and the City of Bonn, are pleased to announce the next edition in the Resilient Cities congress series - the annual global forum on urban resilience:
Resilient Cities 2015
6th Global Forum on Urban Resilience and Adaptation 
8 – 10 June 2015 Bonn, Germany
The call for contributions for the 2015 congress is open and welcomes proposals for presentations, panels, workshops, posters, trainings, and co-events.
The submission deadline is 1 December 2014. Don't miss the chance to shape the program of this global event!
Key themes for the 2015 congress are:
Resilience data and indicators
Communicating resilience and applying ICT solutions
Adaptation planning and policy and integrated approaches
Ecosystem-based adaptation and resource security
Creating resilient public health systems and communities
Urban risk, vulnerability, and Disaster Risk Management
Resilient building, design and infrastructure
Capacity building, governance and collaboration
Financing resilient development 
Adaptation and resilience experts are invited to submit their contributions using the