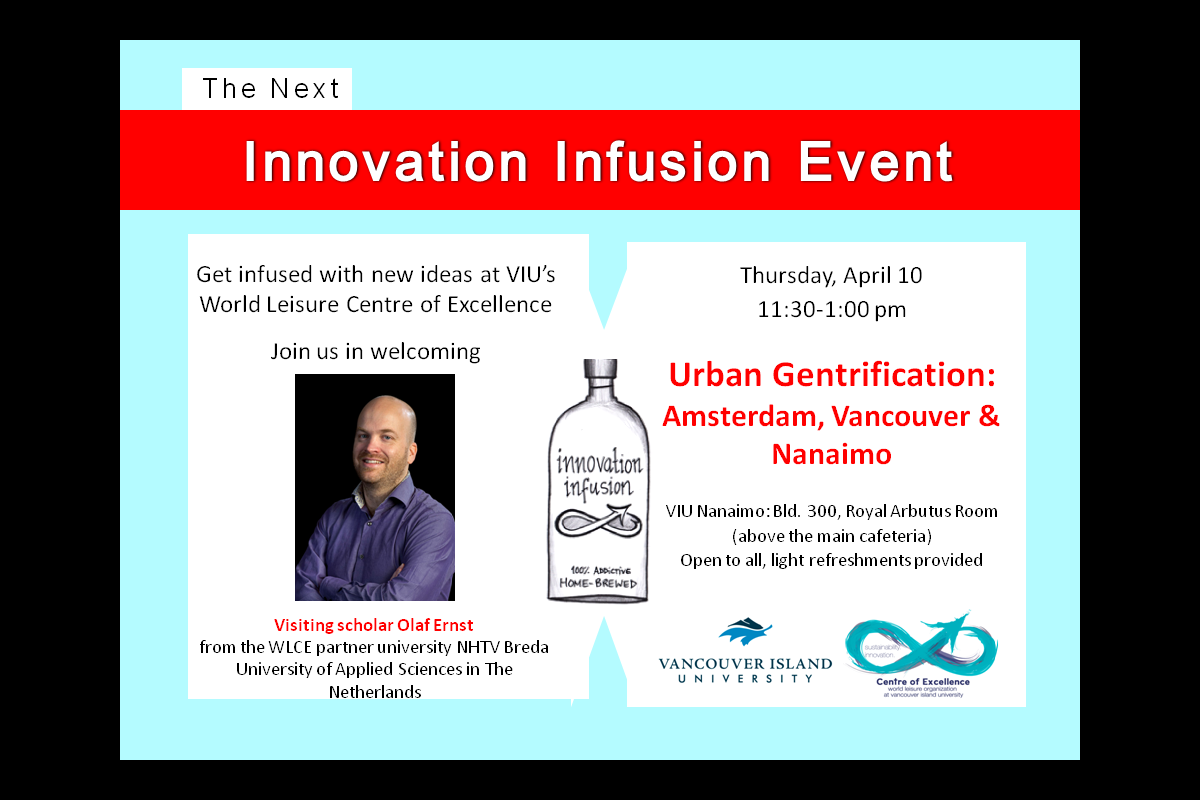 By Ming Kei (MK) Yeung & Sreya Kumar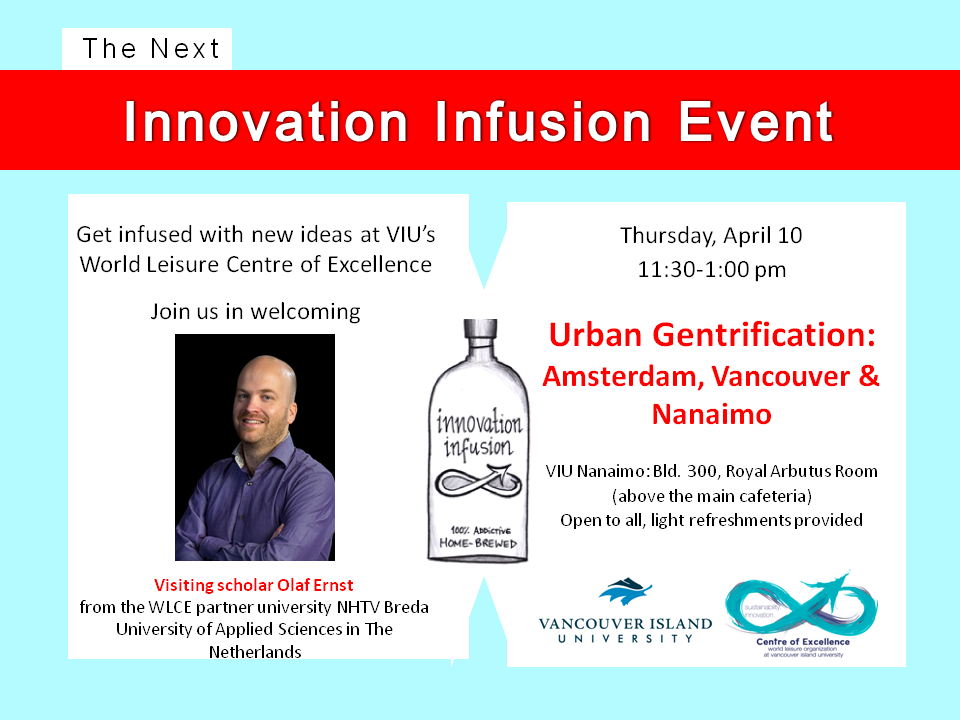 This Innovation Infusion presentation was given by Olaf Ernst, a visiting scholar from NHTV Breda University of Applied Sciences, The Netherlands. He introduced the topic of gentrification in urban spaces, focusing his presentation on his research in Amsterdam, Vancouver and Nanaimo areas. Gentrification has different meanings in different contexts. In the Netherlands it may not be considered as controversial as in Canada and the United States, where terms such as revitalization or upgrading are preferred terms used instead. His research focus was to examine to what extent the food service industry specifically the local pubs, and the interactions and experiences therein, reinforce or reduce the social decisions with a gentrifying neighbourhood. His innovation infusion session provided insights on the role of spaces seen through a leisure lens. In Amsterdam, gentrification was seen as a mix of being a threat and an improvement. People were welcoming of new amenities and some were completely detached to wider changes. Whereas, in eastern Vancouver, known as Canada's poorest postal code yet at the same time a tourist spot, new gentrified amenities are not welcomed by existing populations. Here existing traditional pubs are displaced and substituted with new owners who gentrify the pub. In Nanaimo the revitalization is generally welcomed and the downtown amenities have been expanding since 2000's. The city pubs cater to all kinds of clientele and not just high end customers.
Sustainable development requires meeting the basic needs of all and extending to all the opportunity to satisfy their aspirations for a better life. This is key towards addressing social sustainability as pubs and other public spaces bring different groups of people together. From an economic standpoint, gentrification positions a place as financially attractive for all kinds of people or just for the ones with purchasing power. This is an innovative concept as people's interest on old areas can be made to good use to market and develop these gentrified areas. Low property prices have a major effect on people's attitude to invest time and money to buy in to their neighbourhood; gentrifications thus, helps keep these property prices higher and gives more value to the place. This makes the city thrive as it builds a stronger housing market that is important to neighbourhood revitalization.
This topic is highly relevant with Sustainable Leisure Management. On one hand, dwellers' livelihoods have been significantly influenced in the progress of gentrification. In this process, though the rich and the middle class have improved their quality of life due to the convenient locations of gentrified residential areas, the displacement of original residents, poorer people, should not be overlooked. The question of how to deal with their demands need to be taken into consideration. On the other hand, when presenting his study in Vancouver, Mr. Olaf introduced an exceptional example of commercial gentrification which gave inspiration to Sustainable Leisure Management. The owner of Save on Meats, located in Gastown in Vancouver, established and operates this comparative low-cost restaurant. In this way, not only has he helped poorer people in this gentrified area, but is also preserving the snack shops and pub culture which provides the field of Sustainable Leisure Management with inspiration on how to settle impacts and conflicts in gentrification. Referring to this, Olaf suggested a slow, manageable process of gentrification in Sustainable Leisure Management.

Gentrification is a common phenomenon in many cities. Regardless of its drawbacks, gentrification has many benefits towards urban development. However, this presentation left us questioning how decision makers can fully acknowledge the benefits and value of gentrification and gentrified areas so that they can preserve these areas. For example, in Xiguan area in Canton, China, thanks to the improvement of drainage system, this area has been gentrified and local culture are well preserved. However, decision makers prefer rezoning this area to preserving it in order to pursue short-term profits. Alas, the future sustainability of land use planning may well depend on how it copes with these conflicts between the non-gentrifiers and gentrifiers.