This blog post is a contribution of our graduate student Rachel Henderson as part of the SLM 604 - Influencing Change towards Sustainability.
Student Blog: A time for Change, contributed by Rachel Henderson, February 9, 2022.
On February 2 – 4, 2022, I joined my fellow classmates of SLM 604 to participate in the Vancouver Learning Lab (VLL), a field-based experiential learning event organized by Dr. Suzanne de la Barre. Throughout our short three days in the city of Vancouver, we visited several social enterprises to investigate real-life examples of how to influence change towards sustainability. Inspirational, is certainly an understatement to the work these organizations do to both enable and embrace change.
One of our stops of the VLL was to Groundswell Alternative Business School, an organization that empowers (often systemically marginalized) citizens to have the tools and resources to influence change (Groundswell, n.d.). We even had the opportunity to meet with alumni Suzie to hear her story of social innovation within the bike community.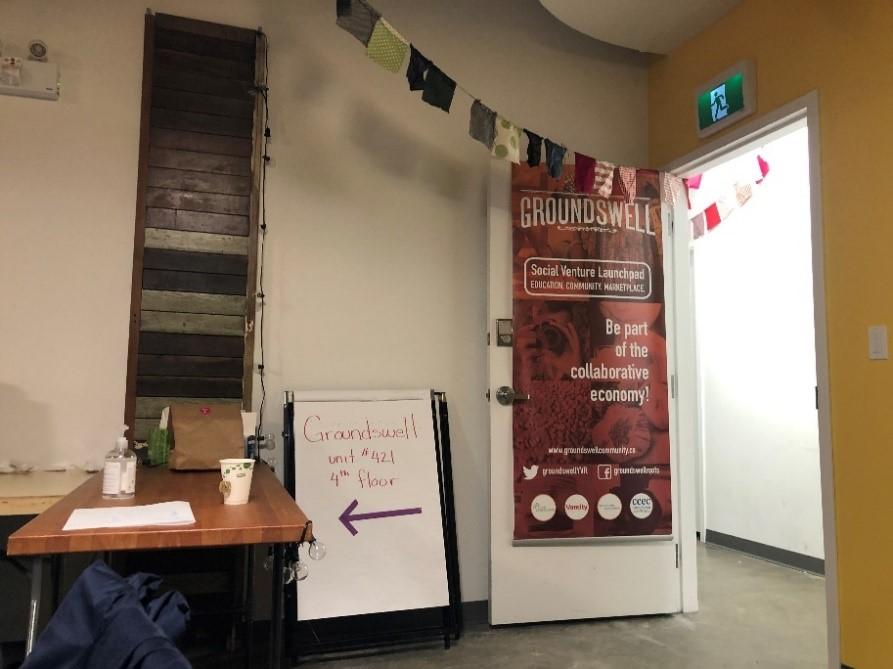 Inside Groundswell Alternative Business School
In response to the pandemic-induced 'bike boom', Suzie developed an inclusive bike education space for individuals who would otherwise feel unwelcome in cis male-dominated bike shops (Suzie, personal communication, February 4, 2022). This inclusive environment not only empowers individuals to develop their own bike knowledge capacity, but also seeks to address the ongoing 'breakable bike' culture that largely ignores preventative maintenance (Suzie, personal communication, February 4, 2022). In adopting Green's (2016) terminology, I would say that Suzie embraced a critical 'window of opportunity' for meaningful change. As a bike-enthusiast myself, I know firsthand that the lack of inclusivity in bike spaces predates the global pandemic, however, I'm not so sure if Suzie's business would have gained as much momentum without the recent bike demand. As Wagner (2016) emphasizes, solutions to complex problems are typically non-linear, and embracing existing momentum often enables exponential growth. In essence, I believe that Suzie embraced the opportunity to change at the right time.
However, just like the steam clock in Vancouver's Gastown, the time might not always be right. Sometimes the time for social change is not possible, and as frustrating as that feels, I think it is better not to dwell on what we can't do, but rather what we can. As echoed by Hunjan and Pettit (2011), this involves being motivated to change through power, rather than powerlessness. Change happens when we focus on collective capacity building, empowering citizens, and cultivating a system to influence change when the time is right.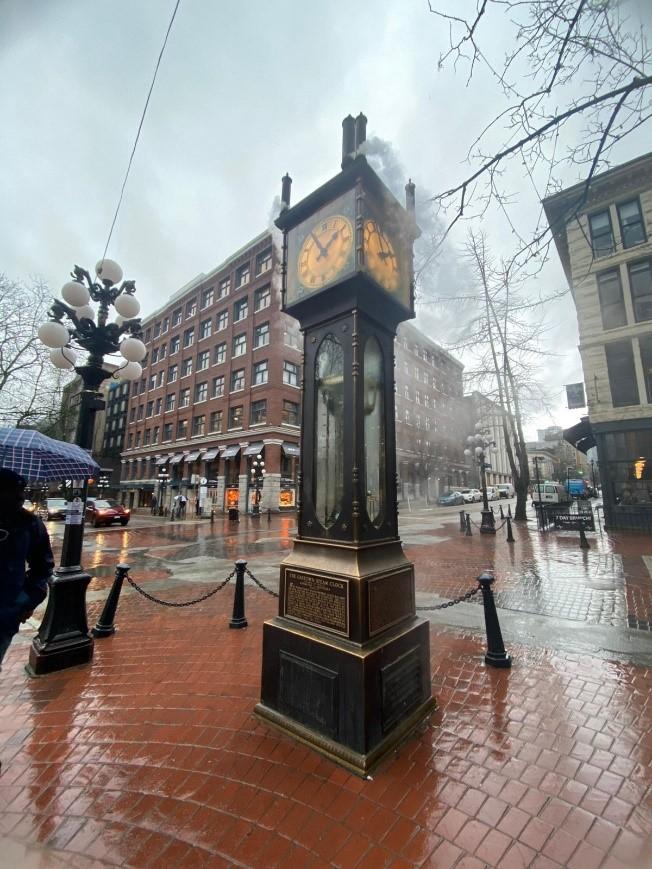 The steam clock in Vancouver's Gastown (Photo by Sally Nguyen)
I was very inspired by a quote from Barbara Lane, Director/General Manager of Metro Vancouver's YWCA Hotel, who eloquently stated that "if no one is brave, then nothing ever changes" (B. Lane, personal communication, February 2, 2022). Truly, humans are at the heart of any social change initiative. This fact was evident while visiting the YWCA Hotel where we were given a small glimpse into the people behind a social enterprise, and how they are able to embrace complex situations to facilitate meaningful change.
In the face of the ongoing systematic inequalities related to women, non-binary, Two-Spirit, and transgender individuals and families in Canada, the YWCA Hotel seeks to bring awareness and advocacy for housing issues, truth and reconciliation, and gender equity in Metro Vancouver (B. Lane, personal communication, February 2, 2022). By doing this, I believe that the YWCA Hotel reduces the stigma associated with seeking housing help. I agree with Belcher and DeForge (2012) in stating that reducing stigmatization discourages the 'us versus them' mentality, and further contributes towards societal togetherness. For the same reason (and with risk of stating an oxymoron), I'd also argue that the YWCA Hotel's self-isolation services during the COVID-19 pandemic actually reduce the stigma associated with COVID-19 infection, and similarly contribute towards greater community togetherness. Thus, I believe that the YWCA Hotel promotes community coalition building which, as Bonnet (2016) describes, significantly influences meaningful social change for better communities. Undoubtedly, social change is possible with the right people.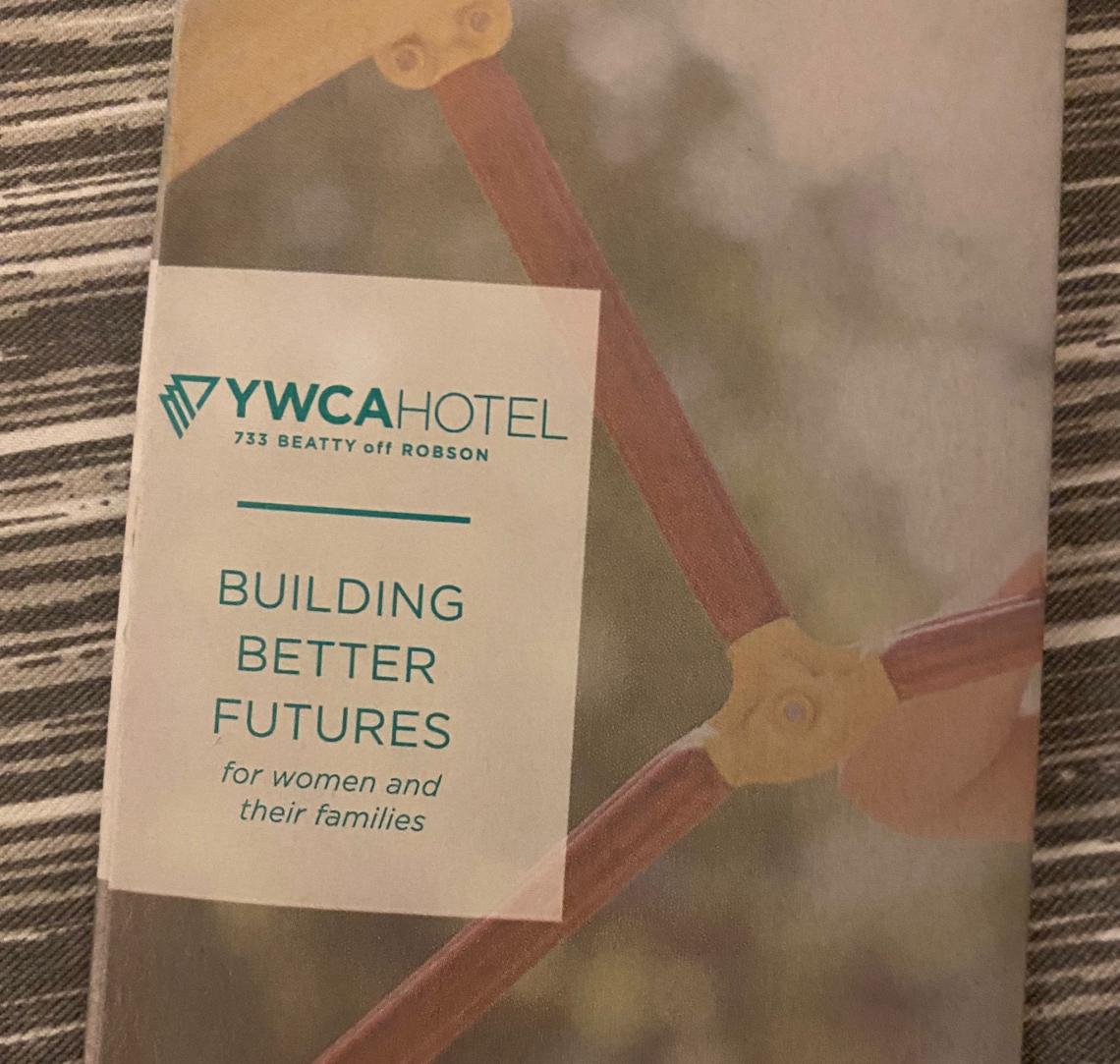 Room Key of the YWCA Hotel Vancouver (Photo by Sally Nguyen)
The third organization we visited during the VLL, 312 Main, is situated in the former Vancouver Police Department headquarters, transformed into a community-centred hub for social and economic innovation (312 Main, n.d.). As a symbol of powerlessness and oppression for many Indigenous peoples, the building of 312 Main serves as a historical reminder to the system which reinforces marginalization. As Bonnet (2016) questions, "how does the community redevelop when some within the community feel alienated or marginalized?" (p. 186). In my opinion, it is impossible.
Through engaging in Indigenous stakeholders in the building's planning (S. Swarup, personal communication, February 2, 2022), I strongly believe that 312 Main is influencing adaptive change towards a more inclusive Vancouver community. As Bonnet (2016) describes, awareness of community history is an important element of building coalitions, and is critical in our understanding of systems of oppression. In this fashion, I believe 312 Main strives to remember their past, without re-traumatizing those who have faced harm within its space. Indeed, the contextual history of a community is another important consideration when striving for social change.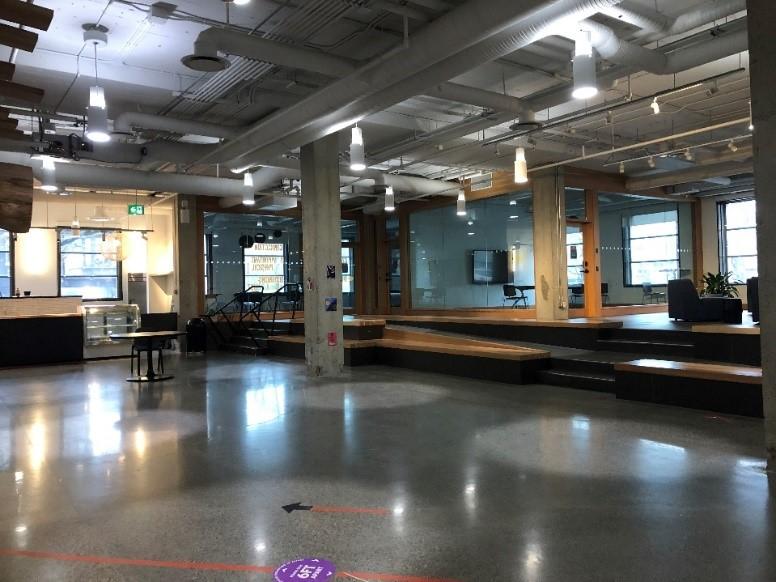 Ground-level floor of 312 Main
Overall, my biggest takeaway from the VLL is that change often isn't simple, it often isn't easy, but it is possible. I agree with Wagner (2016) in describing a need to embrace influence – rather than control – in order for organic change to occur. While I can't pretend to know when the right time for change is, I can certainly acknowledge that it is always the right time for developing our collective capacity to influence and embrace change in the future. With the right people, in the right place, at the right time, we can influence meaningful social change towards resilient communities.
A huge thank you goes to YWCA Hotel, 312 Main, and Groundswell for welcoming us into their spaces to share their stories, and to Dr. Suzanne de la Barre and Dr. Patrick Brouder for making the Vancouver Learning Lab happen. It was an honour to learn and stay on the unceded territories of the xʷməθkʷəy̓əm (Musqueam), Sḵwx̱wú7mesh (Squamish), and Sel̓íl̓witulh (Tsleil-Waututh) Nations.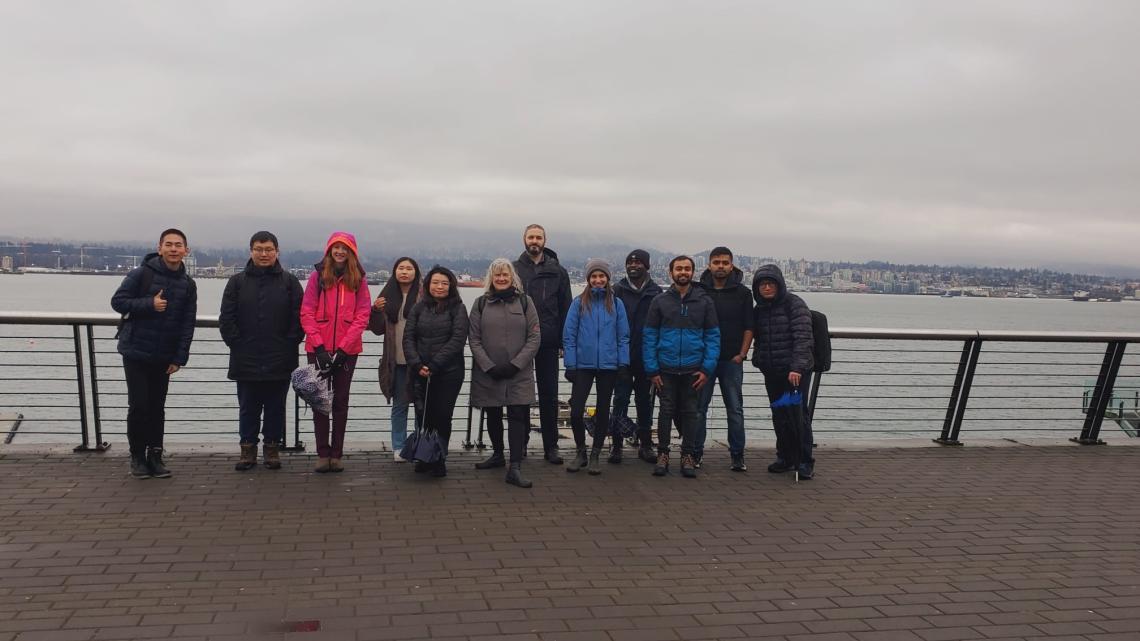 Master of Arts in Sustainable Leisure Management students and faculty on the Vancouver Learning Lab (Photo by Neo Chen)
References
312 Main. (n.d.). A centre for social and economic innovation. https://312main.ca/#about-312
Belcher, J. R., and DeForge, B. R. (2012). Social stigma and homelessness: The limits of social change. Journal of Human Behavior in the Social Environment, 22(8), 929–946. https://doi.org/10.1080/10911359.2012.707941
Bonnet, J. (2016). Citizenship. In Leadership for a better world: Understanding the social change model of leadership development (2nd ed., pp. 175–196). John Wiley and Sons, Incorporated. http://ebookcentral.proquest.com/
Green, D. (2016). How Change Happens. Oxford University Press. https://doi.org/10.1093/acprof:oso/9780198785392.001.0001
Groundswell. (n.d.). Programs in leadership for social change. https://groundswellschool.com/
Hunjan, R., and Pettit, J. (2011). Power: A practical guide for facilitating social change. Carnegie United Kingdom Trust. https://www.ywcaelpaso.org/wp-content/uploads/sites/37/Power-A-Practical-Guide-for-Facilitating-Social-Change_0.pdf
Wagner, W. (2016). Change. In S.R. Komives, W. Wagner, and National Clearinghouse for Leadership Programs (Eds.). Leadership for a better world: Understanding the social change model of leadership development. (pp. 201-232). John Wiley and Sons Incorporated. http://ebookcentral.proquest.com/
Organizations visited during the 2022 Vancouver Learning Lab:
Groundswell Alternative Business School, 268 Keefer St, Unit 421, Vancouver, BC
YWCA Hotel Vancouver, 733 Beatty St, Vancouver, BC 

312 Main, 312 Main Street, Vancouver, BC