World VIUPoints - Visiting Scholar Presentation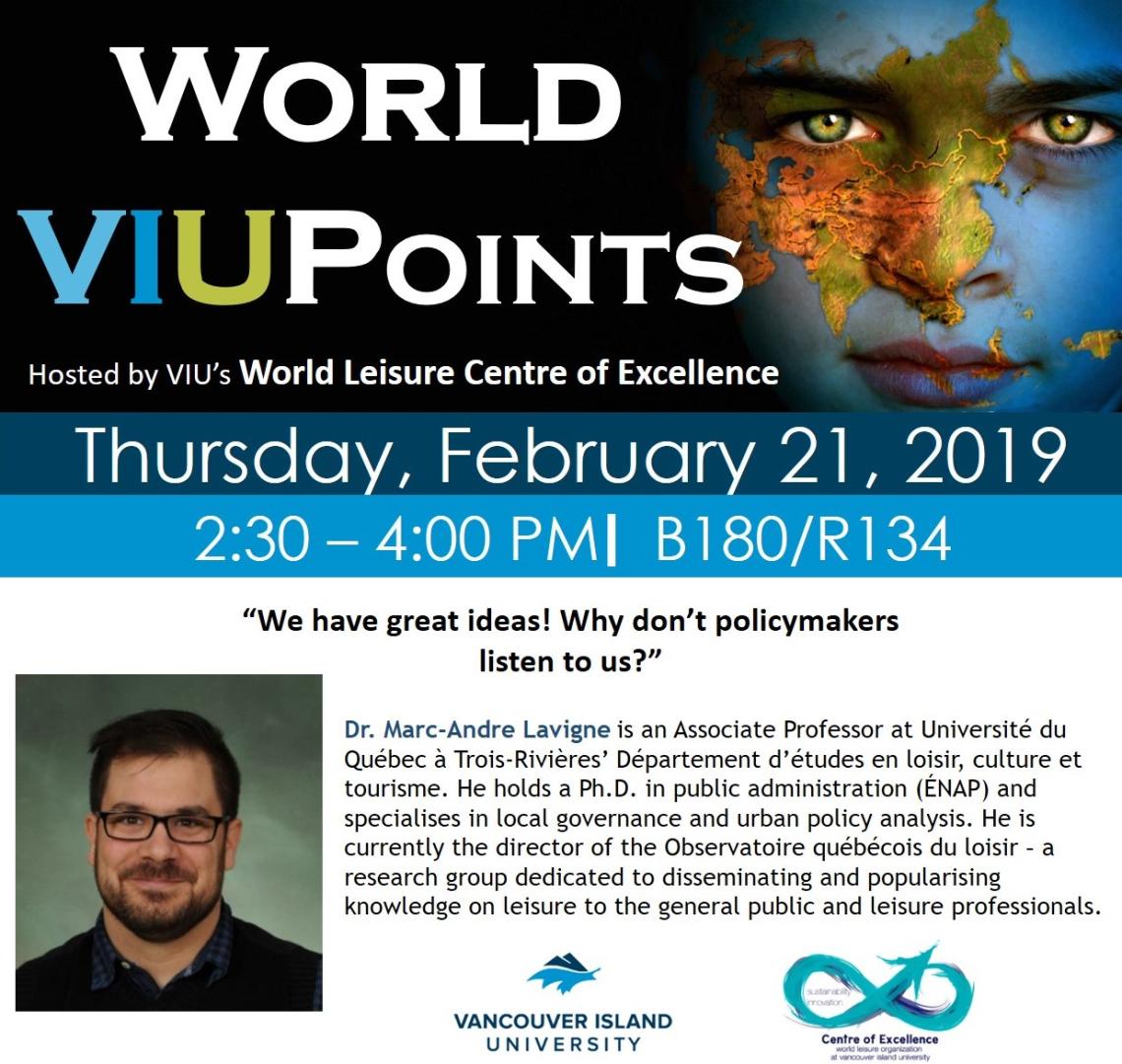 "We have great ideas! Why don't policymakers listen to us?"
Bringing innovation to any community requires specific skills, from thinking outside the box to mobilizing various stakeholders. Nevertheless, great ideas are often pushed aside and do not reach the political agenda, leaving civil society actors or public servants empty-handed. For students and community leaders alike, political actors are quite enigmatic, but fostering innovation requires political skills, an understanding of how they think and of why they act.
This presentation will dive into how formulating public problems, shaping alternatives to those issues, and understanding a political context might be the key to shaping change and be better social entrepreneurs.
About the Visiting Scholar:
Dr. Marc-Andre Lavigne is an Associate Professor at Université du Québec à TroisRivières' Département d'études en loisir, culture et tourisme. He holds a Ph.D. in public administration (ÉNAP) and specialises in local governance and urban policy analysis. He is currently the director of the Observatoire québécois du loisir – a research group dedicated to disseminating and popularising knowledge on leisure to the general public and leisure professionals. One of his main areas of interest is the relationship between civil society actors, public administration and elected officials, and their role in the formulation and implementation of policies and programs specific to our field. In his teaching, he shows a particular interest in the strategic management of public, non-profit and private leisure organizations and in the role of leisure professionals in our society. He received the Canadian Parks and Recreation Association's Award of Merit in 2016.