Dr. Kelly Bricker shared her experience as a Visiting Scholar at VIU, and WLCE just released the 2020-21 Call for Applications
On November 8, the MA SLM cohort said goodbye to the first visiting scholar of the semester, Dr. Kelly Bricker, Professor and Director of Parks, Recreation, and Tourism at the University of Utah. Dr. Bricker is specialized in sustainable tourism and protected areas management and has research and teaching interests in ecotourism, sense of place, community development, natural resources management, value of nature-based experiences, and the impacts of tourism.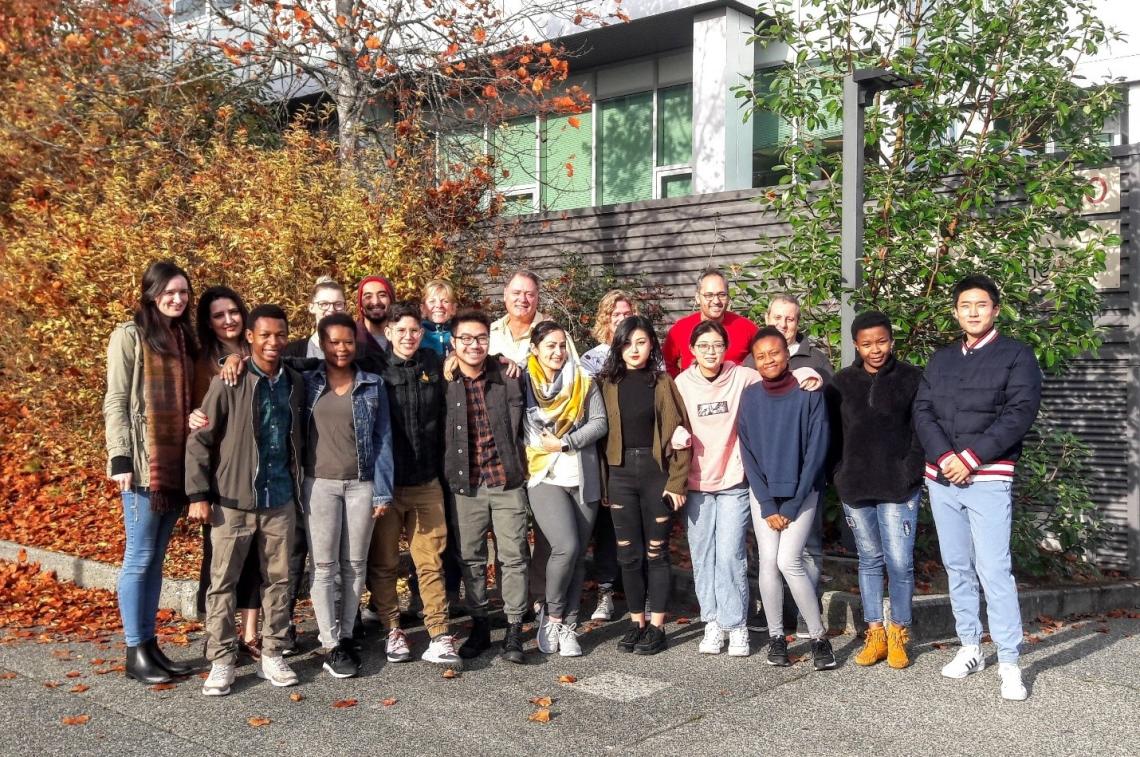 Our visiting scholar Kelly Bricker with the 2019 SLM cohort, Professor John Predyk, and Professor Farhad Moghimehfar.
Visiting scholars bring their expertise to enrich student learning by sharing their research and professional experiences, and exploring possibilities for future collaborations such as research projects, co-supervisions, study tours, and so on. During her stay at VIU, Dr. Bricker was involved in co-teaching SLM 602 – Case Studies in Sustainability and Innovation with Professor John Predyk. Besides benefiting from the activities in class, students also had the opportunity to meet one-on-one with Dr. Bicker to get some suggestions and insights for their research.
Dr. Bricker also delivered a public presentation on the connections between nature-based tourism and health. The public presentation is a very important piece of our Visiting Scholar Program, amplifying the knowledge mobilization and bringing together faculty and students not only from the Faculty of Management but also from other programs, as well as a general audience.
When asked about her experience here at VIU, Dr. Bricker said she had a great time interacting with the students and faculty, and would highly recommend our Visiting Scholar Program to her fellow colleagues.
"My experience at VIU was wonderful! The application process was straight-forward and it was an honor to be selected. The faculty were wonderful at every stage of the process, with every attention to detail taken care of, which is always appreciated. I really enjoyed the students and faculty – the diversity and engagement throughout my time with VIU. I had time to meet with students one on one, and learn about their interests and theses ideas, as well as engage with them in the classroom. By far, this was a highlight of my experience. The schedule was appropriately paced with opportunities to explore Vancouver Island. VIU is such a hub of international activity and the support and engagement with this institution was excellent – my hope is to return again for a visit and develop on-going collaboration in the near future. The Center is doing terrific work and I feel very lucky to have spent such quality time at VIU!"
The WLCE team would like to thank Dr. Kelly Bricker for her great contributions to the MA SLM Program and release the new Call for Applications.
For more details and application form, please check out the following document:
Scholars who are interested in joining the program for the 2020-21 academic year are encouraged to submit completed application and a current CV or Resume to Joanne.Schroeder@viu.ca by January 15th, 2020.