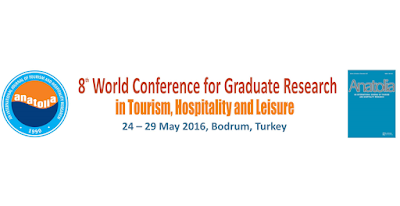 Deadline (no more than 2,000 words) - 01 February 2016
With its motto "get connected to international network with prolific scholars and state of the art research topics", the aim of this conference, hosted by the journal Anatolia, is to provide a forum for research collaboration and mentoring of emerging tourism researchers in order to share their research experience. We invite scholars from tourism studies and the wider social sciences to join us. We are open for the submission of extended abstracts for consideration in either of the following two categories or both:
Thesis/dissertations: Open only for graduate students (e.g. Masters, MBA, MPhil, PhD, DHTM) to reflect the summary of their theses or dissertations in terms of the development of hypotheses and methodology and showing the way how it may contribute to advancing the literature.
Conceptual/research papers: Open both for graduate students and faculty members who are encouraged to share the results of their state of art work-in-progress or completed research papers. This category welcomes the submission of papers with single or multiple author/s.
All accepted extended abstracts (max 2000 words) are included in the proceedings that will be distributed in both printed and electronic forms upon your arrival at the registration desk.. In a further stage, a selected list of papers (max 5000 words) will be considered for publication as a chapter in a book form due by international publishers. This year we have 6 books to be published by international publishers such as CABI, Routledge, Emerald, and Cambridge Scholars.The proceedings will have an ISSN number. All papers will go through the blind review process to nominate the best paper award.
Kaye Chon – Hong Kong Polyu, SAR China
Abraham Pizam – University of Central Florida, USA
Anna Mattila – Penn State University, USA
Eduardo Fayos-Sola – University of Valencia, Spain
Tom Baum – University of Strachlyde, UK
Kaye Chon Recognition Award
Outstanding Ph.D. Dissertation Award
Outstanding Master's Thesis Award
Pre-conference seminars (free of charge for participants):
Alan Fyall – University of Central Florida, USA
Antonia Correia – University of Algarve, Portugal
SooCheong (Shawn) Jang – Purdue University, USA
Maheshvari Naidu – University of KwaZulu-Natal, South Africa
Stephen Pratt – Hong Kong Polytechnic University, SAR China
To explore more about its forthcoming and previous series (speakers,
documents and photos etc) please click on
For submission of extended abstracts please visit
To browse the contents of Anatolia please go to