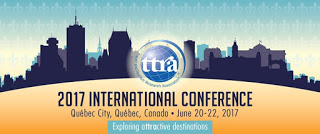 The 7th Annual Graduate Student Research Colloquium will be held on June 20, 2017 in conjunction with the 2017 Travel and Tourism Research Association (TTRA) Annual International Conference. The purpose of the Graduate Student Research Colloquium is to provide an interactive forum for graduate students to discuss their research, to obtain constructive feedback from researchers in the fields of their expertise, to support the successful completion of their research, to expose students to peers' work, and to establish relationships for future inter-institutional collaborations. The event will be organized as a half day pre-conference combining a session of oral presentations followed by an open meeting concept combining short dissertation pitches (3 minutes) and visual presentations.
Arizona State University invites submissions of research in progress addressing a broad range of research topics in travel and tourism, which include (but not limited to) the following areas:
Tourism policy, planning, & development

Sustainable tourism

Marketing and consumer behavior

Tourism and technology

Tourism and community development

International issues and trends

Managing tourism impacts

Tourism education

Innovative research methods

Interdisciplinary research approaches

Action research

Big data and business analytics
Submissions should include the purpose of the study, a brief review of literature, proposed research methods, and preliminary or expected outcomes. All submissions are subject to a double-blind review process.
The length of each submission should not exceed three single spaced pages (approximately 1500 words). Cover page and references are not included in the page requirement.

The cover page includes the title of the paper as well as names, complete addresses, phone numbers, and emails of all authors.

In the preparation of the submission, the formatting of tables, figures, references and acknowledgements should follow the Publication Manual of the American Psychological Association (6th Edition).

All submissions must be written in English or French.

All submissions must be in Microsoft Word (version 2003 or later) format.

Submission details, author guidelines, and document templates can be found at the TTRA 2017 Scholarworks website: 

http://scholarworks.umass.edu/ttra/2017/

All submissions must be sent via

http://scholarworks.umass.edu/ttra/2017/

 by selecting the "Graduate Student Colloquium" track.

For each accepted submission, at least one student author must register for and present at the Colloquium.
Graduate Colloquium vs. TTRA Conference Paper
:
The same abstract should notbe submitted to both the Graduate Student Research Colloquium and the main TTRA Conference. When making a decision regarding where to submit your research, it is recommended that research that is either conceptual or in its formative stages be submitted for presentation at the Colloquium, while well-developed, completed research be submitted to the main TTRA Conference.
Authorship can include graduate student(s) and faculty member(s). However, a current graduate student must be the primary author. Students graduating in May 2017 are acceptable.
Accepted and presented abstracts will be assembled into a portfolio and provided to all attendees of the TTRA Conference.
Students presenting their research must register for the TTRA Conference, which includes both the Colloquium and TTRA Conference activities.
Deadline for abstract submissions:

Friday, January 10, 2017
Notification of accepted abstracts:

Friday, March 3, 2017
For more information regarding this call for papers, please contact the Colloquium Chairs:
Dr. Gyan Nyaupane, Arizona State University, Email:
gyan@asu.edu