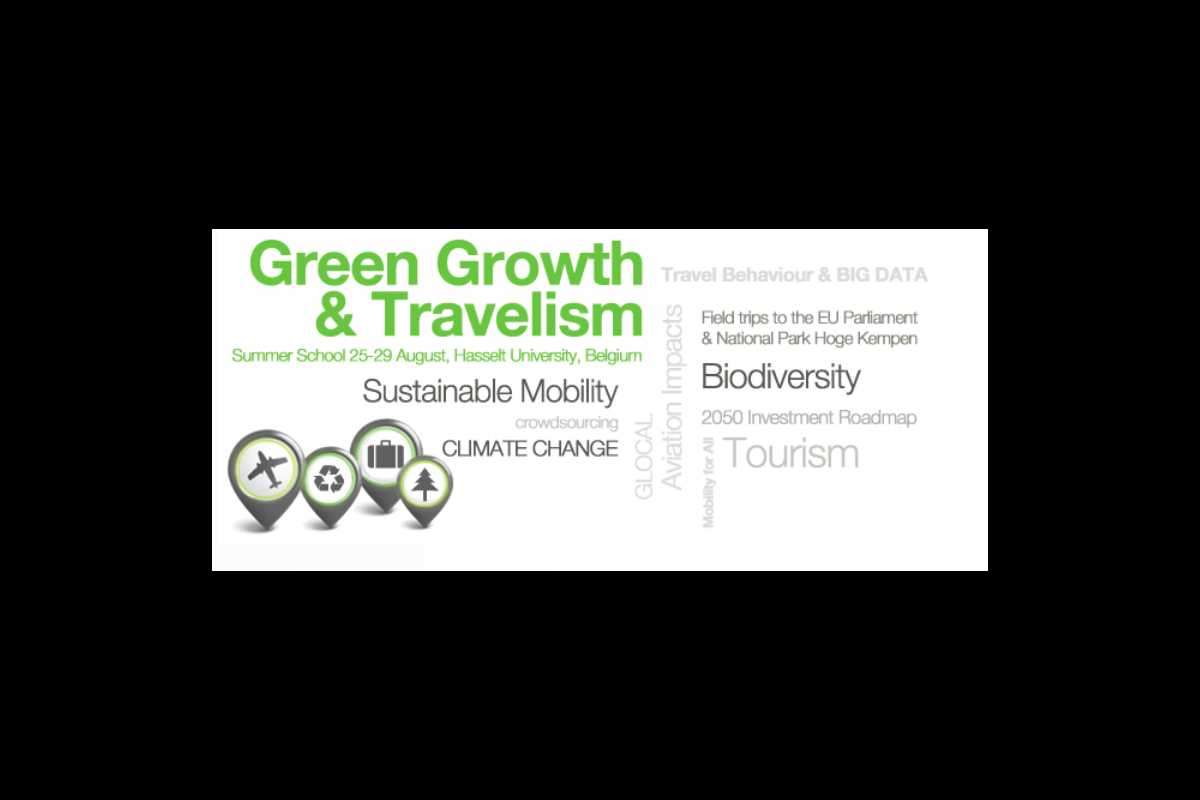 Week long event to focus on travel and tourism sector and sustainable mobility, climate change and biodiversity.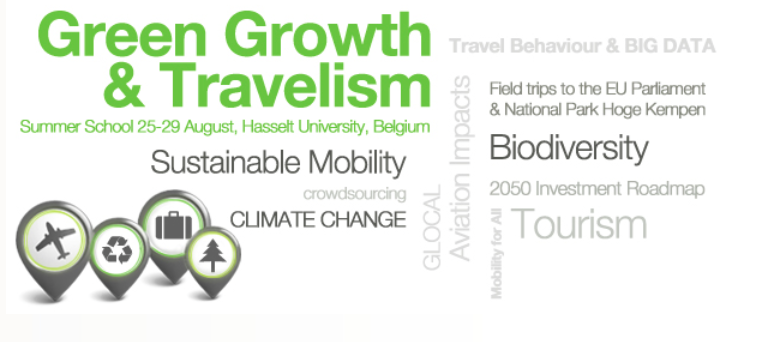 When?

The GG&T Summer School 2014 will be organized from Monday August 25 to Friday August 29.

Where?

The GG&T Summer School 2014 will take place in Belgium, at Hasselt University (Campus Diepenbeek | Agoralaan Building D | 3590 Diepenbeek) with field visits to Hoge Kempen National Park in the Province of Limburg and to the European Parliament in Brussels.

Approach

A series of lectures devoted to a specific topic or case study, will be offered, given by renowned experts in the field of green growth, travelism, mobility and biodiversity who will share their knowledge and experience during these five days:

Field trips 

will be organized to the 

Hoge Kempen National Park

 in the Belgian Province of Limburg, the perfect environment to learn about biodiversity, and to the 

European Parliament

 in Brussels to help understand the geopolitical and sociopolitical impacts of change.

By means of debate sessions, the subjects handled during the lectures and visits will be discussed in interactive debates, focusing on practical applications and career development for course participants.

Target audience

The Summer School is open to people involved in the Travel & Tourism field (and related sectors). More specifically, the target audience consists of graduate managers or students (holding at least a Bachelor's degree) who are professionally and/or personally involved or interested in the themes 'climate change and biodiversity' and 'tourism and mobility in a sustainable setting'.

Participant Certificate

Participant Certificates will be issued to all participants of the Summer School.
Registrations for the first of its kind "Green Growth & Travelism" International University Summer School are now open. Its specific focus will be on sustainable mobility, climate change and biodiversity. This week-long event is organised through the renowned Transportation Research Institute (IMOB) of Hasselt University, Limburg, Belgium as the first global initiative of a group of Universities collaborating in a new Green Growth and Travelism Institute (GGTI).

Announcing the Summer School, the Rector of Hasselt University, Luc De Schepper said "The world community has embarked on a great Green Growth transformation and we are proud to launch this seminal summer school to focus on the role of the pivotal Travel &Tourism Sector. It fits well with the transport sustainability research in our International Transportation Research Institute and the overall vision of Limburg as a Green and Clean Province. The graduate students and industry executives who enrol in this school will receive intensive quality indoctrination in the real time transformational opportunities and challenges they will confront in the coming years."

Professor Geoffrey Lipman founder of Greenearth.travel and President of ICTP, one of the directors of the School said that "This is the first of a planned series of educational initiatives to encourage and support Green Growth transformation patterns for the sector. Today's world is changing rapidly and we are facing economic, social and environmental challenges compounded by intensifying climate change and shifting markets. In order to create a bright future, the concept of Green Growth has emerged as a proactive strategic response. Travel & Tourism - Travelism (in twitter language) is increasingly recognized as a key element of sustainable global socio-economic development."

The Summer School will explore and explain these concepts, showing how the development of the "sustainable mobility" value chain can both adapt to meet the changing global challenges and turn them into opportunities. A major element will be to look at the impacts along with the benefits of travelism – and the metrics and measures that are needed to assess and balance both sides of the equation.

A series of lectures devoted to transport and hospitality sustainability topics and case studies will be given by leading experts in the fields of green growth, travelism, climate change, mobility and biodiversity. These will be completed by field trips and interactive debates, focusing on practical applications and career development for course participants.

Ashoka fellow and Goldman Award holder, Ignace Schops, Director of Belgium's National Park Hogen Kempen, where field sessions will be held - another director of the Summer School - said that "Response to Climate Change and Biodiversity depletion are not only central to humanity's future, they are at the core of the Travel & Tourism product and service chain.

We urgently need to become more sustainable in our daily lives and need a kind of eco-check for new developments. Especially in the Travel & Tourism field some sustainable targets can be easily reached. More embedded in a global sustainable policy framework it can be proved there are a lot of opportunities that can tackle Climate Change & Biodiversity loss and solve social-economic problems as well.

This innovative and though provoking summer school represents on ideal learning and networking opportunity for graduate students and young management professionals in the Travel and Tourism industry and those sectors which are part of its value chain.

Lecturers will include Professor Terry DeLacy, Geoffrey Lipman and Paul Whitelaw, Victoria University Australia, Professor Geert Wets of Hasselt University and Professor Shaun Vorster, Stellenbosch University RSA,

The first Green Growth and Travelism Summer School will be in Belgium, August 25-29th, 2014.

For practical details & registration, see www.ggtsummerschool.be

Earlybird rates apply until end of May 2014