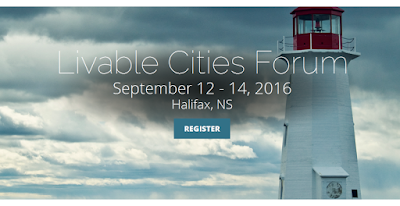 2016 Livable Cities Forum: Changing Climate, Changing Communities
September 12-14, 2016, The Westin Nova Scotian, Halifax (NS)
Set against the backdrop of vibrant and picturesque Halifax, the 2016 Livable Cities Forum:

Changing Climate, Changing Communities

will explore themes of extreme weather and building community resiliency.  For this landmark fifth edition of the Forum, delegates will be able to learn from experts by attending a diverse selection of high caliber plenaries, panel discussions, workshops, and presentations. 

The program will cover a variety of topics, including:
Preparing Canadians for a changing climate;

Responding to extreme weather and climate change;

Mainstreaming implementation in Canadian communities; and

Measuring progress on climate action.
Program highlights include extreme events in a coastal setting, building partnerships to address risks posed by extreme weather, as well as great opportunities for local study tours to explore community resilience around the city.


The Forum will provide the opportunity to connect with leaders and innovators from across Canada to discuss the importance of preparing for climate change and extreme events at the local level.