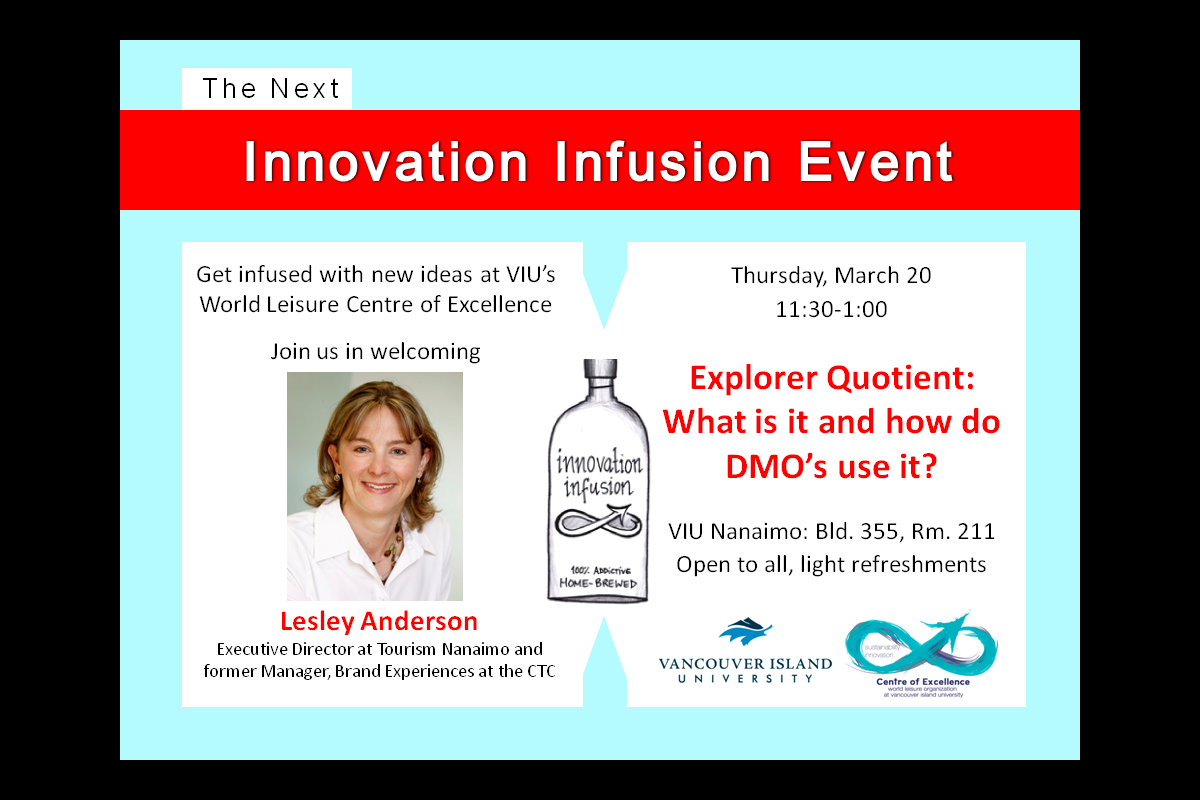 The Speaker
Lesley Anderson joined Tourism Nanaimo as Executive Director of Destination Management in Nov. 2013, bringing almost 20 years of marketing and sales experience in a broad range of tourism sectors including airlines, cruise, receptive, travel agency, and tour operator. Previously, Lesley managed the Canadian Tourism Commission's Brand Experiences unit, a team responsible for the creation and implementation of the Canadian Signature Experiences program, the EQ licensing program, as well as industry outreach and training. She is passionate about sharing her insights on travellers with industry stakeholders to help them develop and promote the tourism experiences that will position Nanaimo, BC & Canada competitively in the marketplace and will drive increased visitation.
The Topic
Explorer Quotient is the Canadian Tourism Commission's market segmentation research that helps tourism marketing organizations understand the motivations and behaviours of today's international travellers. Tourism Vancouver Island and Tourism Nanaimo are licensees who have purchased the rights to use EQ for their destination marketing activities.

Lesley Anderson will be talking about what is EQ, how do DMOs use it to increase the effectiveness of their targeting and marketing, the benefits and impacts that licensees have realized across Canada, and how tourism businesses can access this information for their advantage.
What is an Innovation Infusion Event?
Throughout the academic year, visiting scholars and guest speakers such as Lesley Anderson offer public presentations, which fulfil part of the mandate of the World Leisure Centre of Excellence (WLCE) at Vancouver Island University to offer both our students and our community the opportunity to learn from the experiences and research of local, national and international scholars and practitioners through public presentations. Innovation Infusion Events are free and open to all. Light refreshments will be provided.