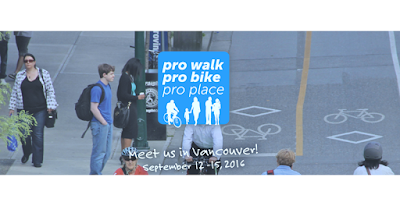 Pro Walk/Pro Bike/Pro Place will convene in Vancouver, BC, September 12-15, 2016 at the

Sheraton Wall Centre

. Hotel rooms are available at the Sheraton at a special conference rate of $199 CAN. The location typifies Vancouver's particular kind of livability: amidst a dense urban core can be found

resilient neighborhoods

, a network of innovative urban bikeways, open space, connections to public transit, dozens of

unique destinations

within walking distance and (most importantly) 

a culture that embraces active transportation

for health, for sustainability and for fun.  
Vancouver's high quality of life comes from decisions made decades ago, when the city rejected the thrall of freeways and car culture, opting instead to preserve its walkable urban core. In the intervening years, progressive public policy in mobility, governance, health and resilience have made the city the global benchmark on livability. We thought that made Vancouver the perfect place for our conference.
(Note: This schedule is subject to change)
Shoulder meetings and trainings
Pre Conference Mobile Workshops
Networking Reception & Registration
Vancouver Evening Activities
Breakouts and Lunch Plenary
Vancouver Evening Activities
Morning Breakout Sessions