SLM Field Experience – Gordon Clark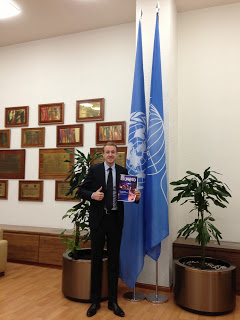 As part of the MA SLM program at VIU students have an opportunity to gain field experience. I am privileged to be completing my field experience as an intern with the Sustainable Development of Tourism Program at the World Tourism Organization. I am pleased to report back to the World Leisure community about my experience.
The Sustainable development of Tourism Program is an exciting department of UNWTO, which has numerous projects on the go, all the time. A significant portion of my responsibilities here are preparing for sustainable development events and drafting travel visa facilitation studies.
Despite progress in visa facilitation made in recent years, on average two thirds of the world´s population is still required to obtain a visa before travelling, which is an obstacle to tourism growth. UNWTO is active in the international community, working with nations and regional commissions to best balance national `security´ concerns and potential tourism growth. Another element to balance is visa facilitation innovation such as application interfaces, electronic visa processing and regional agreements, which can ease restraints in international travel. It is a real pleasure working with the enormous UNWTO database of visa policies and travel flows, as well as the wisdom of the staff here.
The Sustainable Development of Tourism Program has a significant role to play at UNWTO and is frequently involved in presentations, conferences, and meetings. Part of my responsibilities in this program is preparing speaking notes and meeting briefs, which I am sure, are as much beneficial to the program as they are incredible learning opportunities for me.
Having the opportunity to be a part of SLM program (in the classroom) and intern with UNWTO (out of the classroom) is an incredibly complimentary experience. The same can be said about living in Nanaimo, Canada and Madrid, Spain, where I have been able to indulge in a little leisure, myself.
Whether at a potlatch on the West Coast of Canada or in the center of Spain, it seems like everyone likes to get together around a table of food for a good time.
Thank you to everyone across the world for making this learning experience possible and incredibly valuable, and to the world leisure community taking an interest!