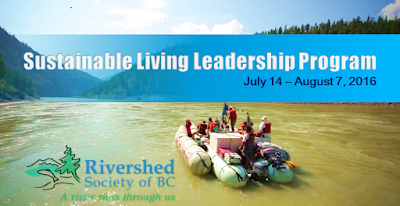 Journey the Route of the Salmon, from Headwaters to Sea
Travel 1,400 kms down the mighty Fraser River, one of the world's greatest salmon rivers, by canoe, raft, shuttle van, and on foot.
Evenings are spent camping under the stars along the banks of the river, while days are spent learning about stewardship and designing your own sustainability project to implement in your community.
Traveling through ten of BC's fourteen biogeoclimatic zones, you study watersheds, salmon, resource management and how to lower your ecological footprint. You discuss what it means to live sustainably; you learn about food security, voluntary simplicity and green economics.
Engaging with peers, facilitators, and the RSBC's extensive network of community leaders, you learn from and get inspired by their experiences and knowledge as you meet them in their communities. Team building, conflict resolution, communication and critical thinking are also part of this dynamic program.
Each day you are surrounded by breathtaking scenery, from ancient rainforests, deserts and grasslands to sage brush and floodplain. By the time you reach the Pacific Ocean, you will have designed your own sustainability project suited to your community, and will have gained the skills and confidence to make a difference in your community.