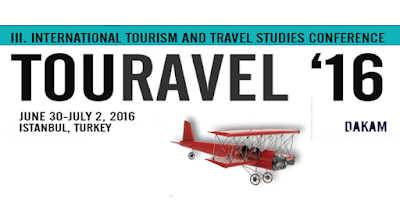 The 3rd International Tourism, Travel and Leisure Conference in 2016 (TOURAVEL '16) held in Istanbul, Turkey will encourage interdisciplinary discussions on travel and tourism studies. The conference will cover a wide range of themes, including Culture and Heritage, Food and Tourism, Issues for Tourism Industry, Tourism and Economic Development, Travel Studies, New Tourism Trends.
TOURAVEL '16 calls for papers on the studies of travel and tourism. All submitted papers are subjected to double blind peer review. The full papers are going to be available online in DAKAM's digital library and to be published in the proceedings book with an ISBN number before the conference. The book will be sent to be reviewed for inclusion in the "Thomson and Reuters Web of Science's Conference Proceedings Citation Index" (CPCI) and Google Scholars.
Abstract submission: March 25, 2016
Registration: May 20, 2016
Full Paper submission: May 27, 2016
For more details, please visit TOURAVEL '16 website.