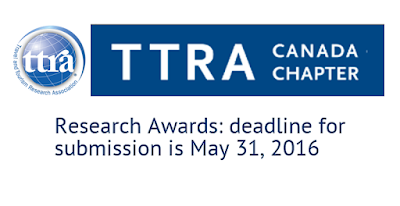 TTRA Canada is pleased to announce our prestigious student awards for 2016 that have helped former winners launch their careers in travel and tourism.

 

In addition to a monetary prize, award winners are invited to present their research at the annual TTRA Canada conference (Edmonton, September 28-30, 2016), with complimentary registration.
The Gordon Taylor Future Researchers Undergraduate Award (Sponsored by Ryerson University's Ted Rogers School of Hospitality and Tourism Management) recognizes students with an interest in and potential for excellence in tourism studies and to encourage undergraduate students to pursue research excellence through employment in industry and/or graduate studies. The deadline for the research award is May 31, 2016. For details on formatting and submission requirements please see:

http://www.ttracanada.ca/awards/gordon_taylor_future_researchers_undergraduate_award
The DMAC Graduate Researcher Award (Sponsored by the Destination Marketing Association Canada) has been developed to encourage and recognize excellence in and usefulness of research on travel and tourism at the Masters level. The deadline for the research award is May 31, 2016. Please see

http://ttracanada.ca/awards/dmac_graduate_researcher_award/

for details on formatting and submission requirements.
Note: All student award submissions are blind reviewed by a selection of qualified judges.

 

If you are interested in participating as a reviewer, please contact Elizabeth Halpenny, Award Committee representative for the TTRA Canada Chapter, at the address below.
Associate Professor, Faculty of Physical Education and Recreation, 
2-130G University Hall, Van Vliet Complex, University of Alberta
Edmonton, Alberta, CANADA, T6G 2H9