lEiSuRE + iNnoVaTioN = SLM and WLCE!
Lots of ideas were brewing at the Vancouver Island Social Innovation Zone (VISIZ) Symposium at Royal Roads University in Victoria last week!
Presentations by VIUs Master of Arts in Sustainable Leisure Management (SLM) Program and the VIU World Leisure Centre of Excellence (WLCE) highlighted the relationship between Leisure and Innovation. SLM faculty member Suzanne de la Barre and SLM graduate student Prem Singh discussed how leisure and social innovation play a part in addressing 'wicked' and 'persistent' social problems.
Leisure can be a process used to address problems (play!). It can be a 'sector' player contributing to the solutions needed to address problems (even non-leisure related problems), and can be the 'problem' (leisure sector related) that can benefit from a social innovation approach to problem-solving.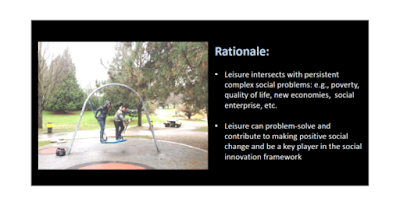 One example of the way social innovation is integrated into the SLM program is the SLM 604 field experience. It forms part of the SLM course 604 titled 'Influencing Change Towards Sustainability' and is designed as a 3-day Learning Lab that provides students with an opportunity to experience the applied dimensions of course theories and concepts on change, social innovation, and sustainability. For more information, go to the 2015 Learning Lab Report on this page: http://www.worldleisureviu.org/2016/01/slm-604-vancouver-learning-lab-vll.html