VIU Professor Joanne Schroeder says the COVID-19 pandemic has highlighted the importance of access to leisure activities as an investment in the long-term health and well-being of communities.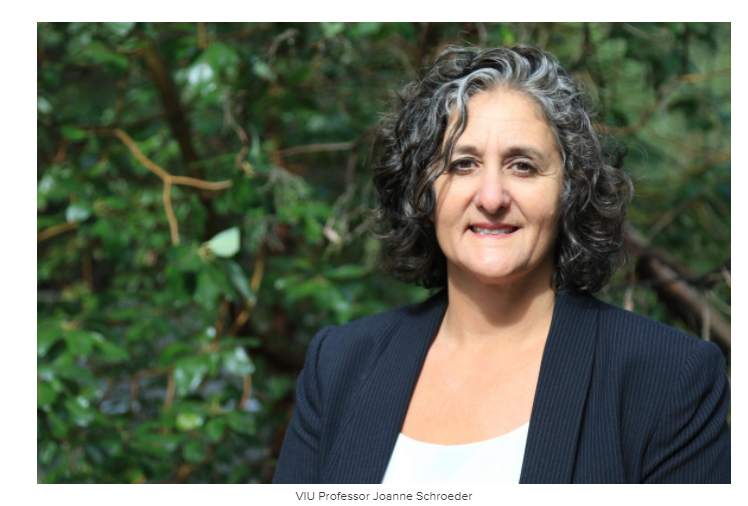 The urgent need to stop people from gathering in close proximity to one another to slow the spread of the COVID-19 virus took away or severely restricted most forms of leisure activities outside the home over the past 10 months. The list is exhaustive: gymnasiums, galleries, theatres, music venues, recreation facilities, libraries, places of worship, restaurants, bars, professional sporting events and even local playgrounds and campgrounds were closed. Borders began closing and fraternizing with the neighbours was not allowed. 
We asked Vancouver Island University (VIU) Professor Joanne Schroeder, Co-Director of the VIU World Leisure Centre of Excellence and the first female chair of the World Leisure Organization Board of Directors, why leisure is important and how the global pandemic is changing our perception of the role leisure plays in our lives.  
What is leisure? 
Article 24 of the Universal Declaration of Human Rights proclaimed by the United Nations General Assembly in Paris, December 10, 1948, states that everyone has the right to rest and leisure, including reasonable limitation of working hours and periodic holidays with pay.  
"The World Leisure Organization defines it as a central force that enhances the human condition," says Schroeder. "There are many activities that fall under the umbrella of leisure: sport, recreation, tourism, travel, arts and culture, dining out, reading, shopping or play. It's this concept of the freedom that people have to choose to participate or pursue activities of interest to them or that give them pleasure." 
On a global scale, there continues to be inequities in access to leisure activities for all people, and government and non-government agencies continue to search for a solution.  
"We will continue to push for how important it is for all people to have access to recreation and leisure pursuits," says Schroeder. "The reason why there is a World Leisure Organization that has consultative status to the United Nations is because the world acknowledges we are at a critical point. Countries with a better socio-economic status see leisure as a critical aspect of enhancing society. Yet in many areas of the world, the pursuit of leisure is only for the affluent while many workers are employed at little more than subsistence wages." 
The evolution of leisure during a pandemic
Schroeder says the pandemic has highlighted the value of spaces. 
"At the root of it is community. When we come together as a group, we are stronger as individuals," says Schroeder. "We do things like eat together, walk in parks together, play together and socialize together. Those are all an aspect of leisure and when we remove those, we can see a huge impact to our health and well-being." 
Historically, people often think of physical buildings, whether they are private or public, as the places and spaces where we engage in leisure. 
"But the reality is leisure activities moved outside of those facilities and I believe that it is going to be emphasized even more as we come out of the pandemic," says Schroeder. "There is an evolution of leisure happening where we have room to move around in our cities, communities and neighbourhoods." 
Post-pandemic perspectives  
Formed in 1952, the World Leisure Organization is a non-profit, non-governmental body of individuals and organizations from all parts of the world that promotes leisure as integral to social, cultural, economic and sustainable environmental development. 
Schroeder has more than 25 years of experience in public and non-profit recreation services encompassing a variety of leisure delivery experiences. She says the COVID-19 virus has created further opportunities for introspection on the way we spend our free time and perhaps insight on the way forward in a post-pandemic future. In her role as chair of the WLO board, she hopes to elevate the conversation of leisure across the globe.  
"There are many countries that are not having these conversations," she says. "Worldwide, our job right now as leisure professionals is to not just talk about this, but to talk about ways to make a lasting change going forward," says Schroeder. "The field of leisure is changing and it took the pandemic to make us look at what is happening. We need to examine how travel impacts our footprint across the globe, re-think local tourism, how can we as individuals support ourselves and our communities, the importance of getting out into our local parks and spaces and what's going to make our world healthier both environmentally and sustainably." 
Schroeder says it is evident that access to green spaces has a significant impact on our mental health and well-being.  
"However, in many countries with huge population densities and high poverty, more needs to be done to elevate the conversation in the context of their country so policymakers see that importance and work to develop a healthy lifestyle, how they plan their cities and create green spaces," says Schroeder. "From what we have learned in this pandemic, we need those supports in place for the next time so we come back stronger." 
Schroeder says a shift to a "well-being economy" a place-based approach to growth that guides policy decisions is what's going to make our world healthier, both environmentally and sustainably.  
"Our community challenges are not discipline-specific," says Schroeder. "For example, health care is also about poverty, housing, healthy family units and access to education. Here at VIU, our Recreation Prescription Project is a prime example of students from a variety of disciplines including Sustainable Leisure Management, Child and Youth Care, Physical Education, Nursing and Education students are working in partnership with the City of Nanaimo Parks and Recreation, Island Health, and the Nanaimo Ladysmith School District to introduce Grade 5 students to more active and healthy lifestyles. They all come at it with a bit of a different lens, but they are talking together about the aspect of health and well-being. It will be the young, emerging leaders coming out of our education systems who are embracing interdisciplinary and intersectoral approaches to solve the complex social issues they are up against in society."  
Schroeder says the shift needs to occur at a global level.  
"Someone said to me, when you get involved at a global scale, you'll never see your local world the same, and that has been so true for me. There is so much we can learn from other parts of the world and perhaps adapt and apply those concepts to fit our own individual or societal context that can improve how we live and live a better life." 
Media Contact: Annette Lucas, Communications Officer, Vancouver Island University