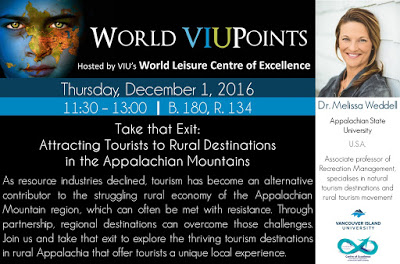 The World Leisure Centre of Excellence at VIU (WLCE at VIU) invites you to our World VIUPoints Speaker Series presented by Dr. Melissa S. Weddell on the topic of Take that Exit: Attracting Tourists to Rural Destinations in the Appalachian Mountains. The presentation will take place on Thursday December 1st, 2016 from 11:30 to 13:00 in Building 180-Room 134.
As resource industries declined, tourism has become an alternative contributor to the struggling rural economy of the Appalachian Mountain region, which can often be met with resistance. Through partnership, regional destinations can overcome those challenges. Join us and take that exit to explore the thriving tourism destinations in rural Appalachia that offer tourists a unique local experience. 
Dr. Melissa S. Weddell is an associate professor of Recreation Management at Appalachian State University in Boone. North management practices and public policy development with a focus on natural tourism destinations. She loves spending time in nature with her husband and contributing to the rural tourism movement.