By Pratik Chakravarty & Yu Zehan (Harden)


Imagine a play space where people have an opportunity to play, question and discover. This is what Liz DeMattia asked lecture attendees to think about. The lecture spoke on the mission of the Nanaimo Science and Sustainability Society (NS3), i.e. incorporating science and sustainability for reaching to the community. Liz DeMattia spoke about how people and communities can get engaged through learning science that is both beneficial to kids and parents. 
The NS3 began with a focus on the city of Nanaimo in recognition that it does not have any indoor places to play or socialize for families and kids and that social places and activities in the city are segregated on the basis of age. The lecture emphasized the role NS3 plays in bridging the community through the four pillars of sustainability (Social, Economic, and Education & Environment) and how this leads to achieving short and long term benefits. Short-term benefits include creating jobs, implementing various social programs and long-term benefits such as education as there is severe decrease in science enrollment among the students in Nanaimo. Further, Liz spoke on how NS3 is involved in the local community by creating and combining the various workshops on community vision, knowledge mobilization and early years. The main goal of such workshops is to mobilize local science knowledge for community engagement.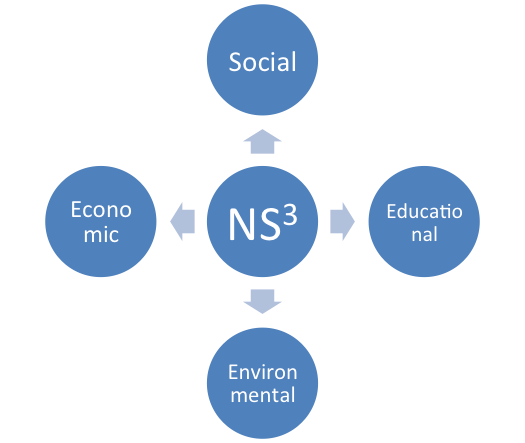 The link to innovation and sustainability is achieved by incorporating the knowledge of science for community outreach. Liz spoke on how NS3 is linked to the four pillars of sustainability and their business plan is directed towards betterment of the society through conducting feasibility study, market survey, SWOT analysis and economic impact report in the community which they are serving. Further the lecture links to innovation and sustainability by emphasizing research through various research organizations such as Vancouver Island University (VIU), fisheries and coastal research and in turn creating knowledge mobilization. Liz spoke about innovation by developing early childhood centers where by both parents and kids learn and experience science in fun and creative ways. The lecture emphasized a number of community outreach programs that the NS3 had organized such as Science in the Park in 2012 and 2013, Summer Science Campus at VIU, and Wild Wings for Kids. Innovative approaches such as having a Mobile Science Van and taking the programs to schools allow for long term sustainability. The work of NS3 is actively viewed as a relationship with local organization's in developing the four pillars of sustainability.

The details of this innovation infusion event connect to knowledge that we have learned in Sustainable Leisure Management (SLM) courses throughout the year across several themes. Firstly, the theoretical structure of NS3 is closely linked with the sustainability diagram in that both structures consist of social, economic and environmental elements. In order to "inspire families and develop their interest in science and sustainability", NS3 adds educational outcomes on the basis of the fundamental diagram. Therefore, what NS3 has done and plans to improve can be viewed as a specific case study of expanding sustainability into other areas (science & education) in a local context. Thus, some particular actions that N33 has implemented are highly relevant to knowledge we have acquired from SLM. Specifically, in the social aspect, N33 emphasize the importance of community involvement like a science center, science programs and workshops in different themes. Similarly, from engaging in SLM classes and field trips we also have realized the importance of addressing a community's sense of sustainability through  community centers, hosting events and workshops for improving communication. In an economic aspect, NS3's contribution to local economic sustainability by investment and job creation is the basic condition for developing whole sustainability that we have learned from other cases frequently as well. Furthermore, from our classes and field trips, we have learned to view sustainability issues in different angles because of the different perception of sustainability in different places. The practice of N33 has provided an appropriate case study of how to focus on sustainability development by integrating local resources (partnerships, volunteers and community sense) and how to understand local sustainability following its mission (science & sustainability, intergeneration). Therefore, NS3 provides a new perspective and vision of connecting sustainability to science and intergenerational concepts in Nanaimo's local context of sustainability development.


This seminar also leaves us with a question about how to identify the links between science and sustainability? From the mission of NS3 we can find that both elements were addressed. However, how to examine the contribution to awareness of sustainability when science-related actions are being implemented (e.g. science center, studio, off-school programs, etc.)?

This topic is important to sustainable leisure management as it brings several new potential domains that can be further explored in SLM studies. Firstly, awareness and current actions towards intergeneration can encourage us to research sustainability development or leisure behaviors not only for individual or community as a unit, but also for family units and particular generations. In this way, the functions or impacts of family engagement or child groups in SLM fields can become innovative directions for further research. In addition, industry connection and resources utilization, which NS3 has focused on, are both feasible areas that SLM can use for reference. For instance, different types of workshops were regarded as a connection of different industries under same objectives. Thus, to generalize value and interest to different industries can be the best opportunity to involve volunteers efficiently. Both points that Liz has mentioned are potential tools that SLM can adopt.