Fall 2021 (All Programs) - Monday August 30 through Friday September 10 (two weeks)
Rock VIU events (Week one of the Fall 2021 Graduate Student Orientation)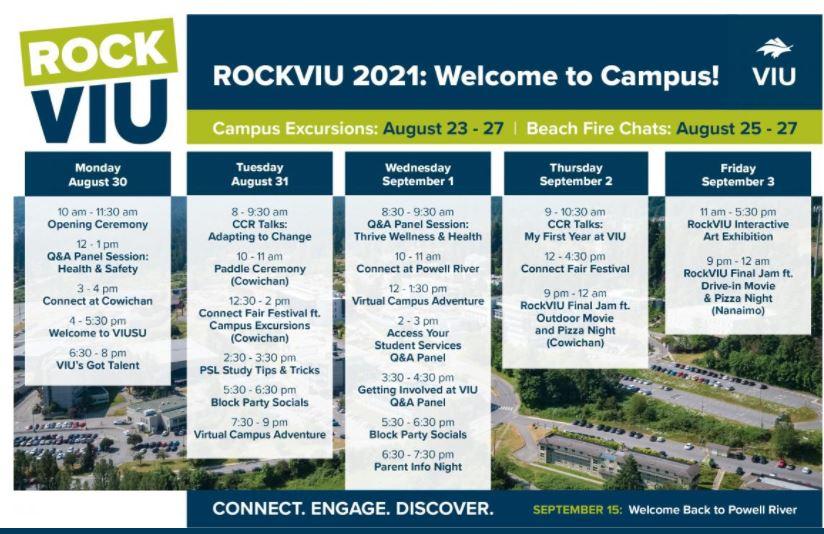 Week two of the Faculty of Management Fall 2021 Graduate Student Orientation includes the following sessions (Zoom links provided below):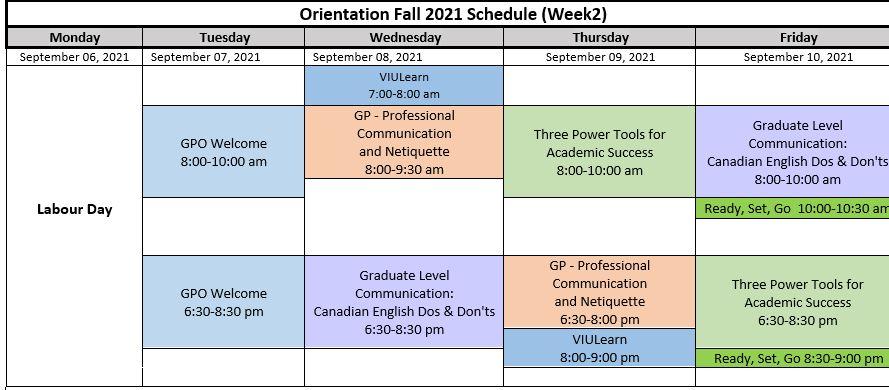 Graduate Programs Office Welcome
Following an official welcome from Stacie Chappell, Associate Dean, Graduate Programs, you will meet the Graduate Programs Office (GPO) team: Golfer Okorie, Graduate Programs Advisor and Carolyne Rickett, Graduate Programs Assistant. We will review your program specifics and launch into the always awkward but ever charming first round of introductions.
VIULearn Student Orientation
This session was facilitated by the Centre for Innovation and Learning (ciel@viu.ca)
This is an important webinar to introduce you to the VIULearn portal for your classes. Participants will learn how to register for the self-paced VIULearn Student Orientation 2021 course, which they will be able to access for up to a year. They can explore that course at their own pace to learn how to navigate VIULearn and practice various tasks and activities that they might be asked to complete in their courses. They will also learn how to adjust their VIULearn settings and notifications for the best online experience. There will be some time at the end of the orientation to directly address some participant questions.
Three Power Tools for Academic Success
This session introduces some foundational, and powerful, tools for both international and domestic students: collective meaning-making structures, dissecting course outlines and unpacking assignments. Sylvia Arnold from the International Academic Support office will lead a fast paced session designed to introduce you to the incredible resources available to you in this office.
Professional Communication & Netiquette
The capacity to communicate effectively is a basic managerial competency. This is particularly relevant for us in an online learning environment when so much communication will be via email. This session will share practical tips and norms for effectively communicating with your professors, your peers, and the VIU administration. The goal is to help you communicate your intended message professionally.
Graduate Level Communication: Canadian English Dos and Don'ts 
This session will introduce the International Academic Support master class series focused on high-impact graduate level communication. This first session will explore common issues identified by faculty members when assessing graduate student writing. Overall, the series will explore the art and science of effectively communicating ideas, creating persuasive arguments, and writing academically.
Ready, Set, Go
In this final session we will close off the Spring 2021 Graduate Student Orientation, respond to any final questions you might have, and provide last minute information updates.