Timelines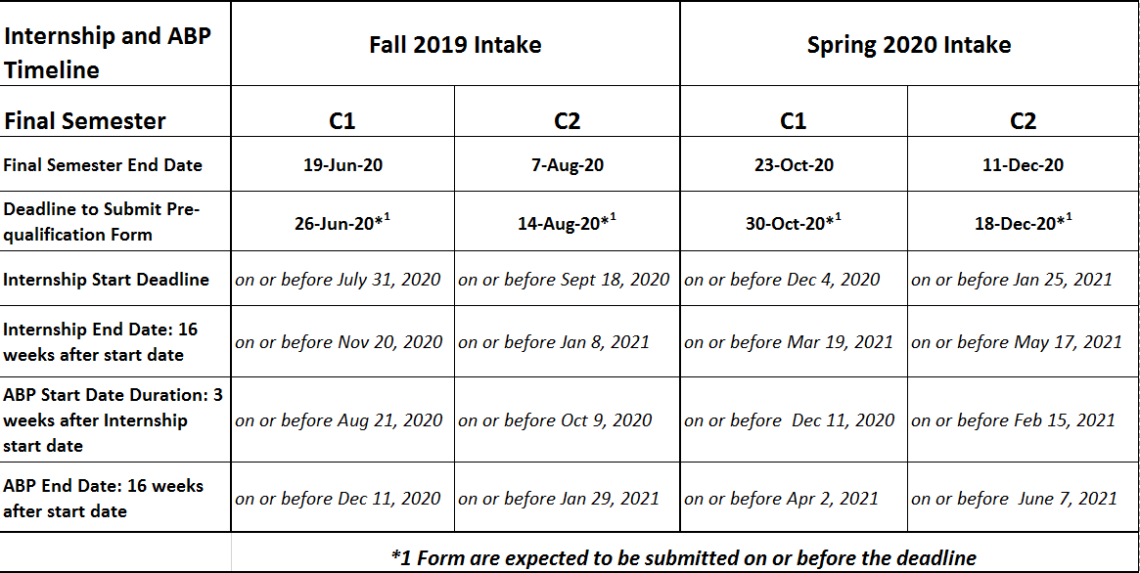 Fall 2019 Students: Pre-Qualification Form
Spring 2020 Students: Pre-Qualification Form
You must secure an ABP Supervisor prior to completing the form. Faculty are limited in the number of students that they can supervise so please contact them early. View a list of regular faculty.
Once your Pre-Qualification Form has been approved, you will be asked to provide the actual start and end dates for your internship (i.e. the sixteen week period you will work), and will form part of your "Work Term Record".
The Work Term Record will be reviewed and approved by your Work Integrated Learning faculty member. Regardless of your internship start date, you will be registered in the relevant internship course (MBA 580/582) by the "internship start deadline" listed above.
If your completion date goes past the end date reflected on your student record by more than 4 weeks, you will be required to register for an extension course (EXTN 500) to complete your ABP and/or Internship. Please note that additional fees will be charged for this extension. 
As a best practice, your ABP should start three weeks after commencing your Internship. An email will be sent to you and your supervisor, from the GP-FOM Office, with your exact ABP start and end dates.  
Please note that your approved internship and ABP dates have an impact on your degree completion and graduation eligibility.
If you have any questions about this registration, please contact the Graduate Programs Office in the Faculty of Management.