Promotion of Lifestyle Entrepreneurship and Business Development

By Sreya Kumar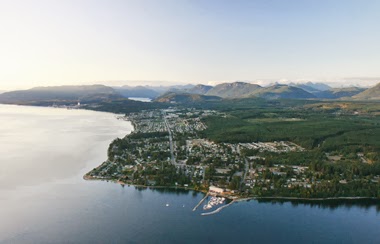 Aerial view of Powell River. Photo credit: http://www.discoverpowellriver.com
This field experience gave us a great opportunity to draw a real picture in our minds of how a quaint coastal place like this addresses to the various sustainability challenges it faces. As soon as we landed there was a distinct feeling of isolation and serenity that surrounded us. The stubborn layer of mist that hung over the sky of this coastal place left me intrigued about the lifestyle of its residents and their hidden wealth of business opportunities. Seeking an interest in a sustainable rural development, I looked into linking amenity based rural development with lifestyle entrepreneurship. 
Based on my previous academic background in Business Entrepreneurship and in-class study on sustainability development, I looked towards the scope of entrepreneurial ability in the coast to maintain a quality of life. Following this practical study experience, I wrote a paper for our MA-SLM Case Studies project work. My paper describes the challenges of employment, income generation in an aging rural population. The very insignificant 1.6% appreciation of population in the past 20 years in Powell River directs the need for business development promotion through lifestyle entrepreneurship for growth. The case study firstly, highlights the reasons for promoting sustainable local entrepreneurship as a force of economic and social change in rural communities of Sunshine Coast focusing on Powell River mainly; after which the ongoing development initiatives addressing this need for economic diversification will be described. To conclude innovative practices from around the world will be provided for future rural development. This research would be useful to the British Columbia government and Regional districts of the Sunshine Coast in promoting sustainable business development in the community.

It has been shown that remoteness, lack of public infrastructure, and low population densities all make attracting private enterprise difficult. The City of Powell River has experienced a small but steady population growth of 1.6% from 12,957 at the 2006 census to 13,165 in 2011. The slow growth in population cited from the census 2006 to 2011, shows the need for human capital to develop further business creation and development in the coast. According to the OCP report 2012, the economy of Powell River has a decline in income generation of individual & family incomes which less than national & provincial averages (cited by 2006 census). After the paper mill decline in 2009 the job opportunities have drastically declined creating the out-migration of youth to the cities. Complex land ownership issues are also shared with 4 unique communities and 3 First Nation Community tribes. The need for combined collaboration of all the stakeholders' values and plans must be met for future development.

There is a drastic need for economic diversification especially with the lovely lifestyle amenities and potential for untapped business development there. Powell River was originally known as a resource extraction centre, where they had the world's largest pulp and paper mill in the 1950s. But now can offer adventurers countless opportunities for kayaking, canoeing, rock climbing, golfing, boating, hiking, biking, fishing, and scuba diving. This area is host to world-class art galleries, tremendous dining opportunities, and memorable events and festivals. Self employment will be vital innovative spin to generate the jobs and development, through creating support platform for lifestyle entrepreneurs with the passion for living their dream business ventures in the coast.

There were various numbers of great business retention and expansion plans put in order by the Coast. Community Futures Island Coastal groups joined with various other bodies such as Chambers of Commerce, economic development agencies, private and public training facilities, business professionals and industry associations, ensuring support to entrepreneurs and businesses.

Powell River Sustainability Stakeholders, FUSE- Helping Creative Entrepreneurs Thrive on the Coast, Synchronicity Festival, Reach Initiative and ongoing future SMRT Farm project were some brilliant programs being enforced within the local community in order to address these challenges. FUSE is a driver for innovation amongst young aspiring entrepreneurs working from home in their pyjamas. They provide the services and the training necessary for a diverse group of people mainly artists and entrepreneurs to flourish and thrive. The aim of Synchronicity festival is to display the diversity of people that live and work among us such as artists, entrepreneurs, artisans, farmers; offering them an opportunity to increase their networks, and provide tourists with a new Sunshine Coast. Re-integrating Existing Assets into Community Hubs - Sunshine Coast initiative with other partners (including Sunshine Coast Arts Council and the One Straw Society) to see how creative and social entrepreneurs can spread their existing to maximize productivity and results.

An interesting part of our project is we needed to find innovative case study examples from other parts of the world that solved these sustainability issues. I liked the economic diversification plan in Brevard, North Carolina. After the fall of three major companies that ran the economy, they were left with only aging population similar to Powell River. The aging population were able to generate valuable business development by being involved in lifestyle entrepreneurship ventures such as- bed and breakfast owners. Powell River can support aspiring entrepreneurs by creating a database of retired business people and linking them with aspiring business owners and providing them entrepreneurial tips based on experience.

Another rural town Big Stone Gap in Virginia picked up its economy through ecotourism , which was previously driven solely by mining which faltered ultimately. They used an ecotourism system to attract innovators and businesses to the area. Essentially, this town used its own resources to attract business to the region. Since the location has a lot of potential, it could create a stable, sustainable tourism industry. The town opened up its resources so that companies could create a network of different services to include the needs of the people in this town give a broad view for the possibility of retainment of youth interest as well as the older generation with experienced business plans involved in community to develop business entrepreneurship for sustainability of the economy.

Entrepreneurship has been shown provide viable livelihood options to individuals and their families. These practices can be implemented in Sunshine Coast business development as there is a need for the collaboration of various stakeholders and age groups together to get involved in their own hometown to build jobs and the economy for future sustenance. These examples from other parts of the world offers the importance of how promotion of natural resources of a rural place through eco-friendly recreation can expand the options of employment within the community using local amenities. I believe that there is a hope for Powell River to be self sufficient and able to develop revenue from its own resources without extraction and combined growth in business development by young adult innovators as well experienced 60+ population in an isolated Area.

I would like to thank all the people on the coast who were generous in helping us through this study tour, as well as our professors, Nicole and Katherine, for making this eye openeing experience possible.
Download the full report
here.