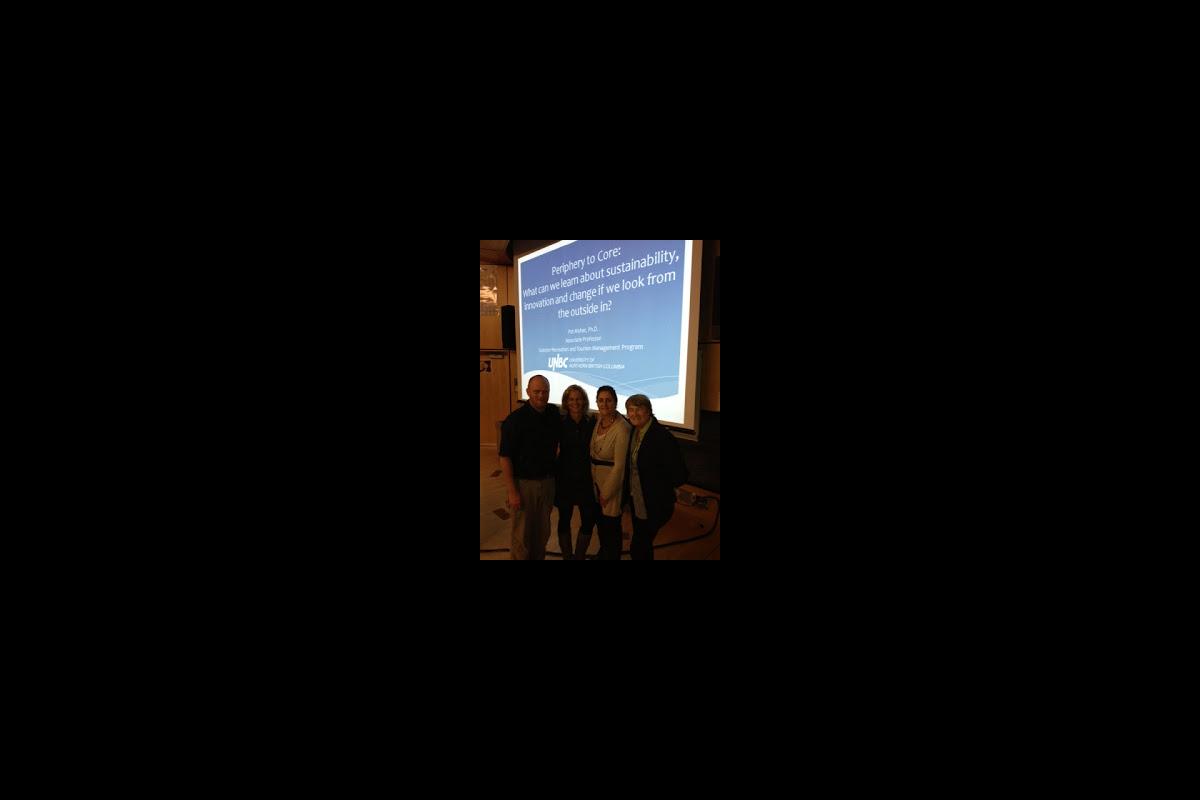 Pat a visiting scholar with the World Leisure Centre of
Excellence presented at VIU on Tuesday the 16th of October 2012. Pat
started his presentation by providing a definition of the following:


















         

Periphery: is a location on earth that is often
consider rural or remote, has access issues and is removed from rural
populations



         

Sustainability: sustainability is a context
dependent subject, some realities have limited infrastructure and due to their
reality this means approaching different sustainability issues. These issues
are all interlocked into three main categories ecological, socio-cultural, and economic.
Sustainability does not always mean "green". It is a balance.



         

Innovation: firstly innovation is not the implementation
of "daily business" as in the opening and operating of a normal business, innovation
is the implementation of a new idea or concept that is often out of the norm.
People often associate innovation as merely technological improvements, this is
just one piece of innovation.



         

Change: this involves action it is the occurrence that happens often after innovation has been implemented.




Pat provided these definitions from his interpretation as he
felt it was essential to the understanding of his presentation. He then drew
upon four examples: Burns Lake, Gwaii Haanas – and Torngat Mountains NP, New
Zealand , and Antarctica all of which he had visited for work and studies. Pats
intention was to show how some cases are context dependent, based on the
realities that each location faces, where others are more cross applicable as
ideas can be shared and implemented in other locations. Often we study the
successes of community development where it might be more beneficial to analyse
the failures, since this can be utilized as a warning to those considering the
same idea.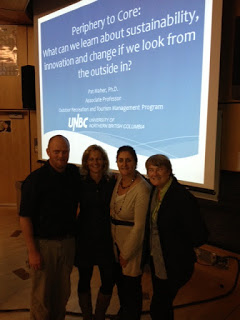 Dr. Pat
Maher (Visiting Scholar), Dr. Nicole Vaugeois (Co-Director WLCE), Joanne
Schroeder (Co-Director WLCE) and Dr. Suzanne de la Barre (VIU).

There is no one stop solution for every context, there is no
golden egg concept to development. It is possible that sustainability can be
this golden eggs theme. Good ideas come from everywhere so when considering the
development of a community, look at other models that have been used
regionally, nationally, and internationally as they are often cross-applicable.
Finally the periphery zone is not inferior, and neither is the core (populated
areas of the world) superior.