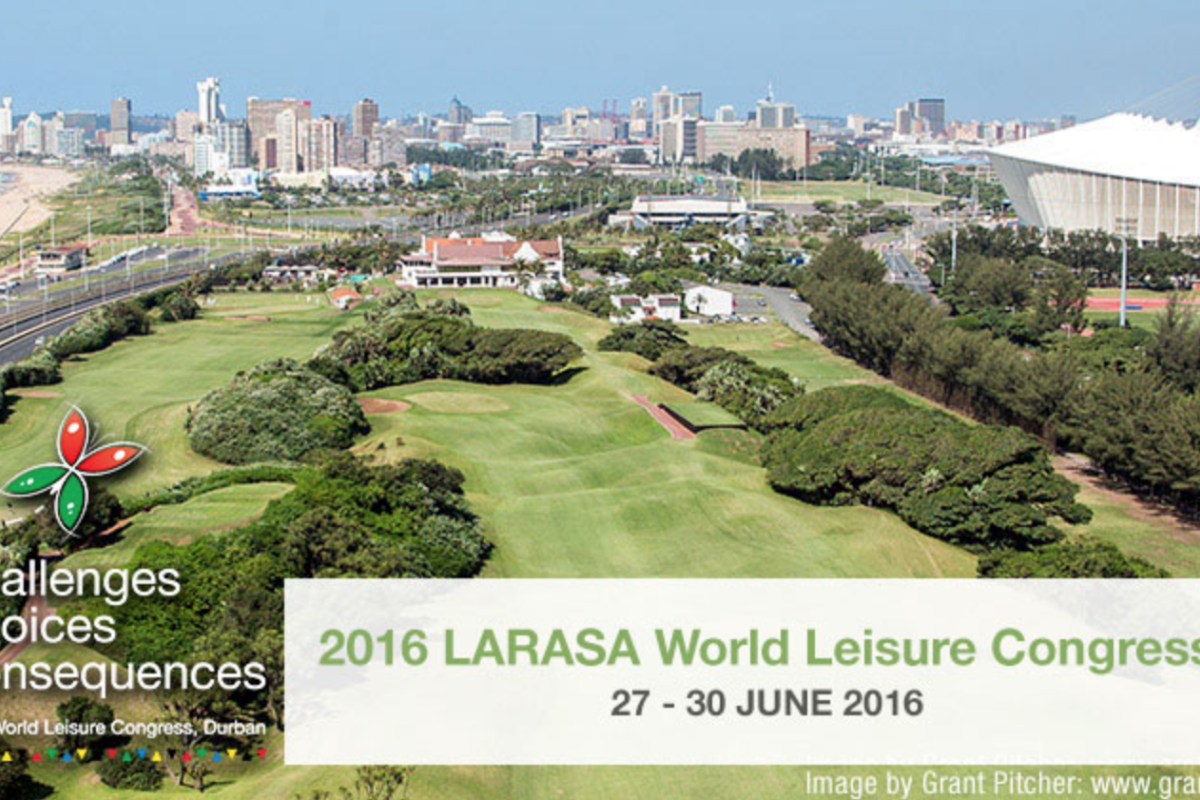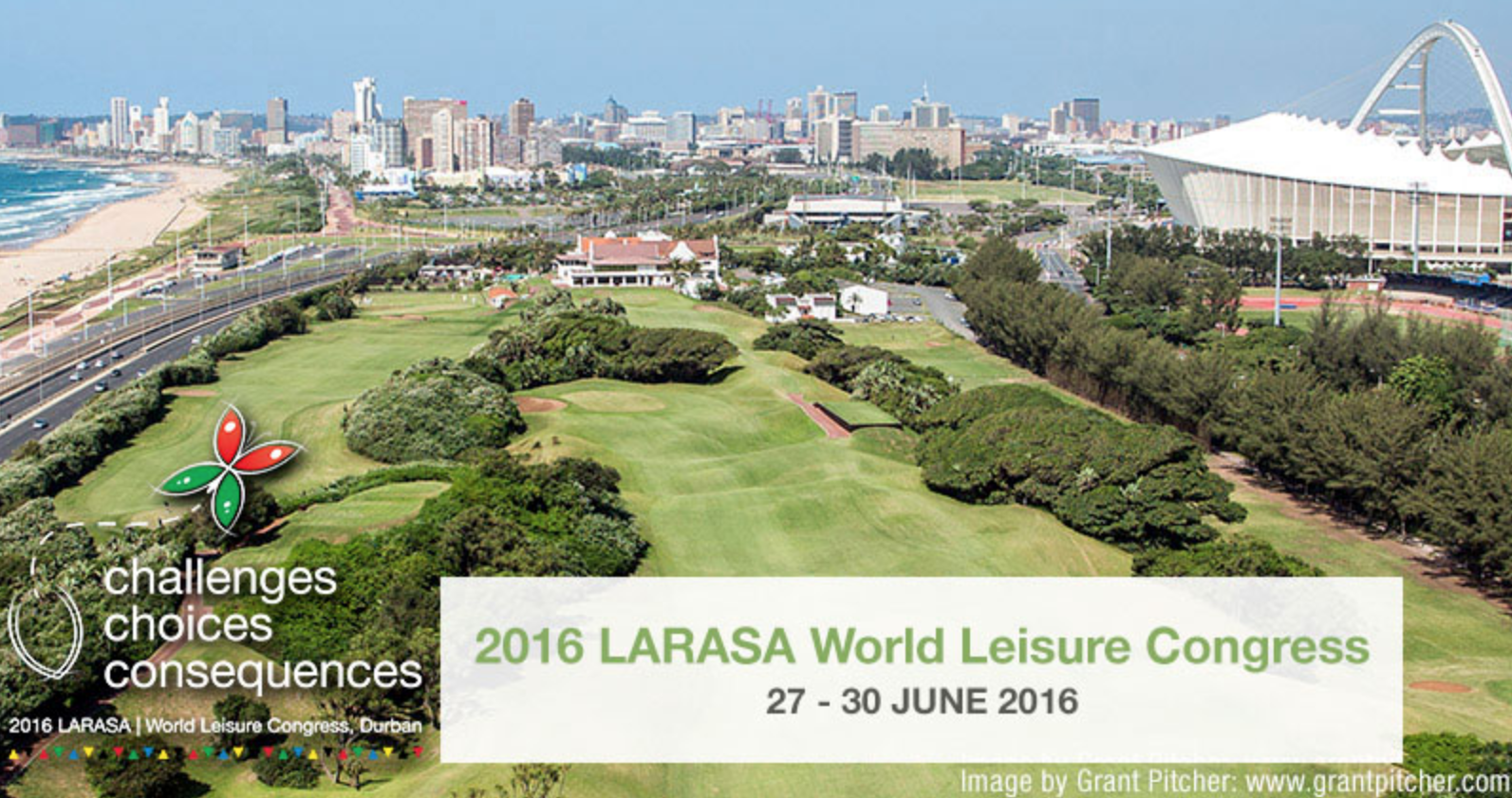 2016 LARASA World Leisure Congress
Call for Papers
The first World Leisure Congress to be held on African soil aims to explore the main theme "Challenges, Choices and Consequences" by creating a platform for professionals from diverse fields to interact, share and present a context for leisure services and opportunities. We anticipate speakers and delegates from many countries, communities and academic fields to collaborate extensive knowledge by identifying the challenges that confront us, to develop strategies in making the right choices and to achieve positive consequences for all. The benefits of leisure has been widely documented and this congress will highlight the importance of an integrated approach using leisure services to improve the human condition, transform spaces and boost the economy.
The Leisure and Recreation Association of South Africa (LARASA) and The World Leisure Organization (WLO) are now accepting abstracts for the 2016 LARASA World Leisure Congress. Each abstract will be subjected to a double-blind peer review by the Scientific Committee and will be assessed according to its thematic relevance, and quality of the research. Presenters accepted for the education sessions will have 20 minutes to present their findings and a further 10 minutes to respond to questions, for an overall duration of 30 minutes per session. Presenters are invited to submit proposals for interactive workshops and panel discussions / commissions, with a maximum of 3 panelists will be allocated 2 hours.
1. Criteria for Acceptance of Abstracts
Papers will be accepted according to overall quality criteria, such as relevance to the conference theme and sub-themes, significance of topic, contribution to knowledge, and discourse coherence and structure.
Only original papers of studies conducted within the last 5 years, which have not been published or presented, will be accepted.
Studies that are completed or near completion can be submitted as reviews.
All authors of accepted proposals must register for the Congress by the early registration deadline (30 November 2015). No late submissions will be accepted.
2. Important dates:
Item
Date
Abstract submission – 400-500 words
Notification of acceptance to authors
Registration of presenters of accepted papers
Full manuscripts to be included into special edition journal
30 June 2015
30 August 2015
30 November 2015
1 January 2016
Individual educational sessions - One submission per presenter / co-author.
Workshops – presented by one or two presenters.
Themed panel discussions – a group of not more than 3 individuals/co-researchers. One abstract will be submitted by the co-ordinator who will convene the panel discussion.
Submissions are invited for the following sub themes
1. LEISURE AND SOCIETY
Submissions on this theme consider leisure as a choice to address challenges which threaten social cohesion, transformation of individuals and cities; social capital and social justice. Included under this theme is the focus on aspects of leisure participation that promote inclusion, and design of leisure services for people with special needs.

2. LEISURE, HEALTH AND HAPPINESS
In the last decade the issues of good health, wellbeing and happiness have been widely documented. Papers submitted on this theme will focus on the positive and negative choices and explore the benefits of leisure to individuals' quality of life.

3. LEISURE AND THE ENVIRONMENT
Built Environment / Environmental awareness / Environmental justice - includes urban landscape, trails, transportation, planning for a leisurely city, sustainable city, just city, infrastructure, planning and preservation of public spaces, neighborhood planning, natural resource management Outdoor adventure and camping.

4. LEISURE, THE ECONOMY AND TECHNOLOGY
Since the mid-19th century onward the availability of leisure time continually increased culminating in a leisure society in the 1980's, a phenomenon recognised as being of both social and economic importance. Media and technology these days are ubiquitous. The use of media, accompany and shape (leisure) experiences wherever people are and whatever they do. Submissions on this theme will reflect modern day influences on individual leisure activities. Papers under this theme should highlight the dynamics of leisure and the rapidly evolving technology.

5. LEISURE RESEARCH / METHODOLOGY / THEORY
Papers submitted on this theme will reflect on the the evolution and importance of theory in leisure research to broaden understandings of leisure, highest standards of ethical behavior and the need for international and interdisciplinary research.

6. LEISURE AND TOURISM
Challenges and Consequences : The modification of leisure resources for tourism; the challenges involved in leisure-based tourism development and management; and the economic, environmental, social, community and cultural consequences of leisure-based tourism.

7. LEISURE MANAGEMENT
Leisure managers are constantly being challenged to deliver better services, programs and facilities with steadily shrinking budgets. Papers are invited to address innovation and insights about the latest leisure trends in leisure services, programs and facilities.

8. LEISURE AND EDUCATION
Being two significant life domains, both leisure and education play major roles in human development. Challenges faced and initiatives undertaken by families, schools, communities and media in educating for leisure.

9. LEISURE, THEME PARKS AND PLAYGROUNDS
Challenging and fun activities in theme parks and playgrounds is central to design, building and maintenance while also providing for the safety of all users. Submissions on this theme should focus on overall design, safety, and maintenance of these important play areas in communities.

10. LEISURE, CULTURE AND CREATIVE INDUSTRIES
According to UNESCO, organizations and economic regions that foster creativity generate significantly higher revenue and deliver greater stability into the future. As culture and creativity become a significant driver in the international marketplace, it is essential to measure their impact not only on the economy but also on society at large.


Submission
Abstracts should be 400-500 words, structured as follows and submitted using the online abstract submission form.
a) Full title of paper as it will appear in the conference programme (not more than 10 words)
b) Abstract should include,

i. background (outline of the context and/or academic literature informing the research),
ii. approach (indication of the broad theoretical orientation and/or methodological approach), and
iii. significance (description and application of the original research findings reported in the paper)

c) Most relevant conference theme as listed above
d) Type of presentation
Date for abstract submission: 30 June 2015