VIU offers a variety of short term Field Schools and Field Trips, visit Education Abroad to see a complete list of the Outgoing Programs
The Hospitality Management faculty plans a number of external trips to help reinforce learning and expose students to broader career possibilities. Here are a few examples of past field trips and field schools.
Hawaii
6-credit Field School
The purpose of this field school is to provide Vancouver Island University Faculty of Management students with an opportunity for experiential learning focused on an examination the interaction between a destination's culture, resort industry and its tourism industry.
Study will focus upon exploration of related destination issues and the social-cultural focus of a destination's culture. This field school allows for a deep exploration of these and related issues.  There are three broad themes that provide the foundation to this field school:
History and cultural heritage of the islands
Tourism industry infrastructure in terms of a tourist destination
Some of the workings of the resort industry
 Las Vegas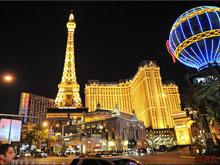 These 4-night, 3-day trips have run for a number of years, traditionally during Reading Week in February.  Hospitality Management students have the opportunity to tour some of the world's largest casino hotels; examining both front and back of the house operations of hotels such as Wynn, Stratosphere, Encore, Caesar's Palace, Four Seasons, Planet Hollywood and the Las Vegas International Convention Centre. These trips also allow students time to explore "Old Las Vegas – Fremont Street", as well as take in shows, group dinners, shopping, and touring the Strip.
Cowichan Valley Wine and Culinary Festival
As a prelude to the 2013 Cowichan Valley Wine and Culinary Festival, instructors Peter Briscoe and Ginny Miller accompanied Hospitality Management students on a day-long tour, to learn about some of the locally grown products from this very robust agricultural area. Students stopped for tours and tastings at Merridale Cidery and Averill Creek Winery as well as a lunch stop in Cowichan Bay; an area well-known for providing artisan and local food.
New Orleans
The two week field school to New Orleans, called "Finding Community, New Orleans-style", put an emphasis on the meaning of community through music, food, culture, customs, and examined how New Orleans has rebuilt after Hurricane Katrina.
Highlights included the following:
A day at Jazzfest, a visit to the Backstreet Cultural Museum, guided tour of The French Quarter, Algiers Point, Laura Plantation, and the Old U.S. Mint.
Two days volunteering with Rebuilding Together. Very hard, hot work, but many students considered this a highlight, as they met the owner of the home.
Food, of course. Food is an important part of what creates a community and our students tried gumbo, jambalaya, alligator, po-boys, fresh seafood, beignets, muffaletas, and may have had a local Abita beer or two.
Italy
Students spent three weeks in Florence and the surrounding Tuscan countryside on a food, wine and culture field school. The focus of the field school was to experience the food, wine and culture of the Tuscan region, appreciating the long history of artisan food products that are unique to Italy, wine and olive oil production, and how the food and wine of Italy have shaped their society, family life, and economy.
The field school was instructive and interactive, with the following highlights:
A tour of Florence, market tours, museum passes, convivial group dinners, and free time to explore nearby towns.
Two consecutive days shopping at local food markets, followed by students dividing into groups cooking typical Italian dishes, and then sharing their (delicious!) results for dinner back at the hostel.
Three days at Giglio Cooking School, learning to understand the essence of Italian cooking, which emphasizes the simplicity of perfect ingredients.