On October 15, 2015, Professor Armin Brysch, from Kempten University in Germany and Chair of Education Committee German Travel Association (DRV), gave a public presentation at VIU Nanaimo campus on the topic ''Innovation and New technologies in Tourism''. Armin's lecture explored the trending field of digital transformation and its recent achievements on various aspects of tourism.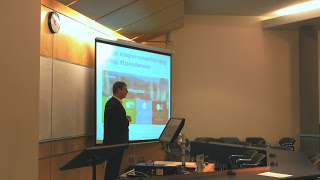 With great expertise and charisma, Professor Brysch presented on a wide spectrum of digital communication without overwhelming the audience. He talked about the key factors for digital communication as well as some of the top issues for this year, such as big data, security and social business. During the speech, a recently coined concept d!conomy was also introduced, which refers to the complex interplay among factors that influence digital transformation.
Professor's overview of the latest developments in tourism industry, with the focus on e-tourism and particular attention to understand the crucial impact on social media related innovation, revealed the importance of travelers' decision making process, business' value and supply chain operations.
It's was made clear by the presentation that a balance among these three factors is decisive for achieving success in the tourism industry nowadays.
The event was hosted by the World Leisure Centre of Excellence at Vancouver Island University.