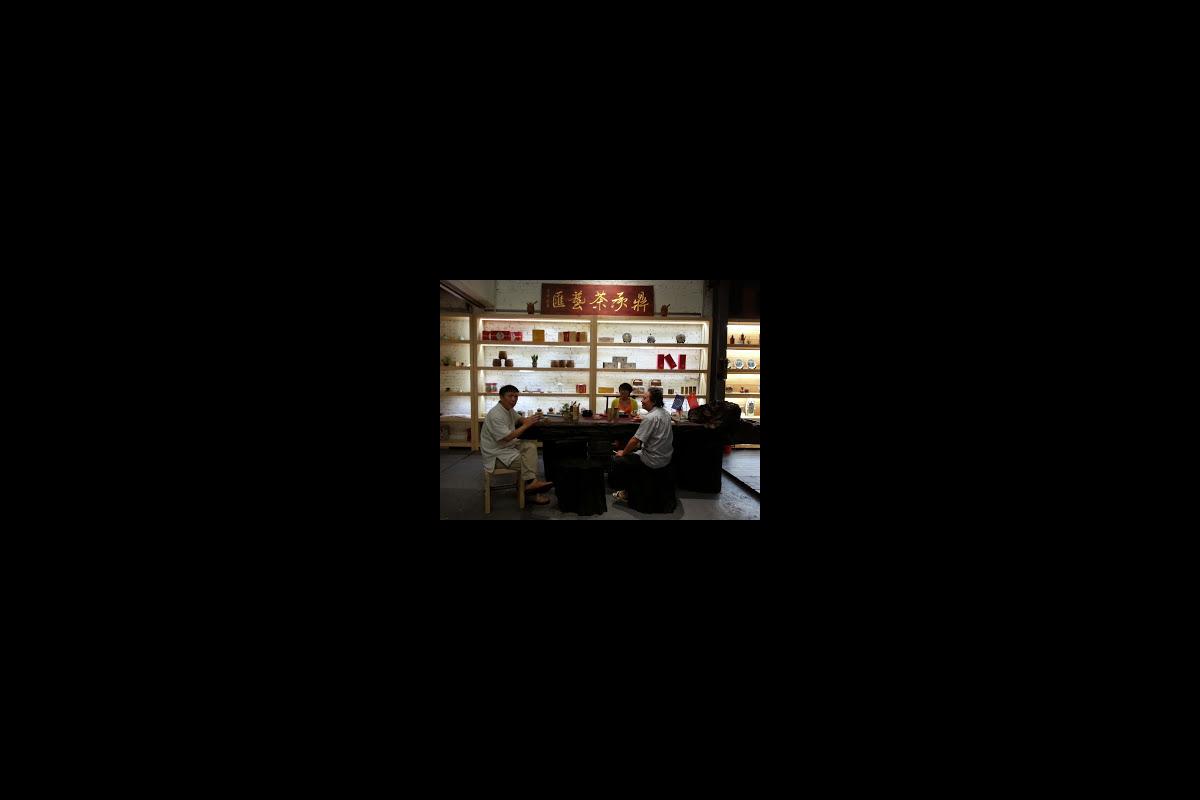 Michelle and I had finished our internship, and we want to share this experience with all of you. 
The position we applied was the general manager assistant in an art company. This company mainstreams in publicizing art knowledge and selling art products. It also provides a good place for many artists to exhibit their artworks as well as workshops. The company is located at Shenzhen OCT-LOFT, which is a famous tourism attraction in Shenzhen city.
Let's have a look at our working areas first.
Here is the front door of the company—three bronze horses.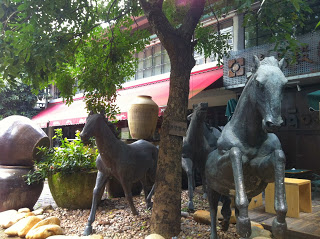 There are some rest areas for visitors to have coffee and dessert.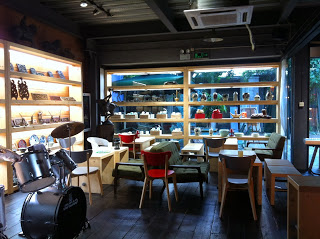 This is the exhibition room and all the products here are for sale. The displayed products will be changed frequently, sometimes there are some paintings that are drawn by famous Chinese artists, and sometimes there are some elegant woodcarvings.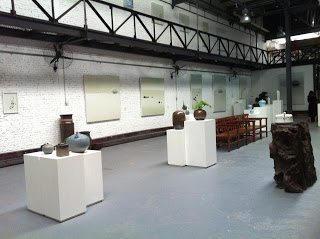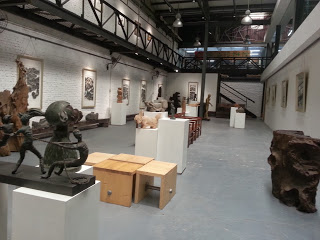 During our internship time, our company held two different exhibitions; one was an exhibition of personal artworks by a professor from CAFA (Central Academy of Fine Arts), the other was assisting business owner of Belgium to exhibit their artworks
in the process of installing an exhibition.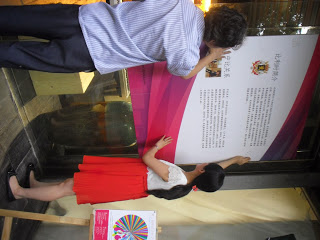 Michelle was putting up a poster on the wall.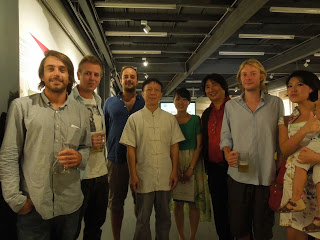 Taking a photo with co-workers from Belgium.
Where was I? I was taking these photos. :D
The advantages for doing the internship with a friend whom is in the same major as yours are that both of you can communicate and share ideas immediately. We often talked and shared minds with each other and sometimes some good ideas will come out because of the brainstorm.  Michelle and I loved to go around the exhibition place to have a look when there is not too much stuff to deal with. We found out that after the first exhibition the show room was very empty because the professor took all his art works away after his exhibition. The company did not put other art works immediately; therefore, some visitors did not even enter our exhibition room by having a quick glance at the entrance. We thought this was not good for the company's sustainable development because these visitors will not come back again if they are disappointed at the first time they came to our company. We described this issue to the general manager and suggested him to put some art works in the showroom even when they do not have any activities. Fortunately, he adopted our suggestion and brought most of his private collections out to put in the showroom.
There were only two gift shelves in the 1000 square meters showroom at first. We thought the two gift shelves were not enough for visitors. Since the general manager adopted our first suggestion, we have the courage to tell him what we thought about the gift shop. We both suggested him to buy more shelves so that they can utilize this showroom more sufficiently. We started some examples that many museums from aboard have gift shops both at the entry and exit gates, and these gift shops helped museums gain more income. Luckily, the general manager adopted our suggestion again. He asked woodworkers to make four more shelves within ten days and he putted much good tea and many sets of teapots and teacups on one of the shelves, which were behind the front desk. He also hired two young ladies to be the sellers. For other three shelves, he decided to add more handmade crafts, which were made by some professors and graduate students.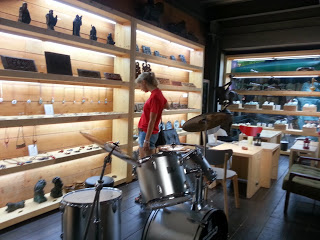 The visitor was looking at these beautiful handmade crafts.
Selling good tea and teapots at the front desk.
Even though we only took one month to recognize the progress of working at an art company, we had learned much useful experience both on work and life and this internship experience also lay a solid foundation for our future career development. The program we had took in Vancouver Island University built up our knowledge structure on sustainable tourism and leisure management, and also cultivated our sensitivity of this field; while the internship experience enhanced our awareness of the importance of combine the theory and social practice. We felt so glad that we can utilize our knowledge that learned from the program to help Juchen Company develop a sustainable tourism and art business.