On October 2, 2015, two keynote speakers, Dr. Dean Kriellaars from the University of Manitoba, together with VIU Professor and World Leisure Organization board member Joanne Schroeder, had presented a public workshop on Physical Literacy & Wellbeing in the Royal Arbutus room on VIU Nanaimo Campus.
Physical literacy is the gateway to active participation, a journey not a destination.
With his tremendous enthusiasm and great sense of humor, Dr. Dean Kriellaars had presented an informative speech on Physical Literacy. He pointed out current attitude problems and the lack of academic research on Physical Literacy with his research results. He suggested that social interaction and community engagement are needed to create effective physical literacy programs, where appropriate challenges combined with fun would increase competence, boost confidence, inspire motivation and encourage active participation.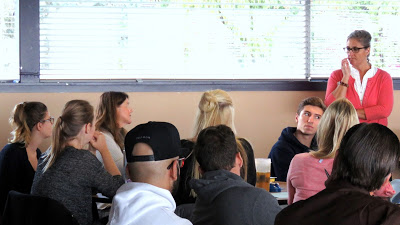 The Q&A session after Dr. Kriellaars'presentation was followed by an interactive workshop facilitated by Professor Joanne Schroeder. Using the recent Canadian publication Pathways to Wellbeing: A National Framework for Recreation in Canada (2014), she invited audience to share take-aways from Dr. Kriellaars' presentation, and encouraged ideas or initiatives to move from this new framework to actions in group discussions. Guests from different sectors and students from diverse programs also expressed the importance of stakeholder engagement and interdisciplinary collaboration in promoting physical literacy and achieving individual & community wellbeing. 
The workshop was co-hosted by VIU's World Leisure Centre of Excellence and Pacific Sport. It was supported by the Vancouver Island University Faculty Association.