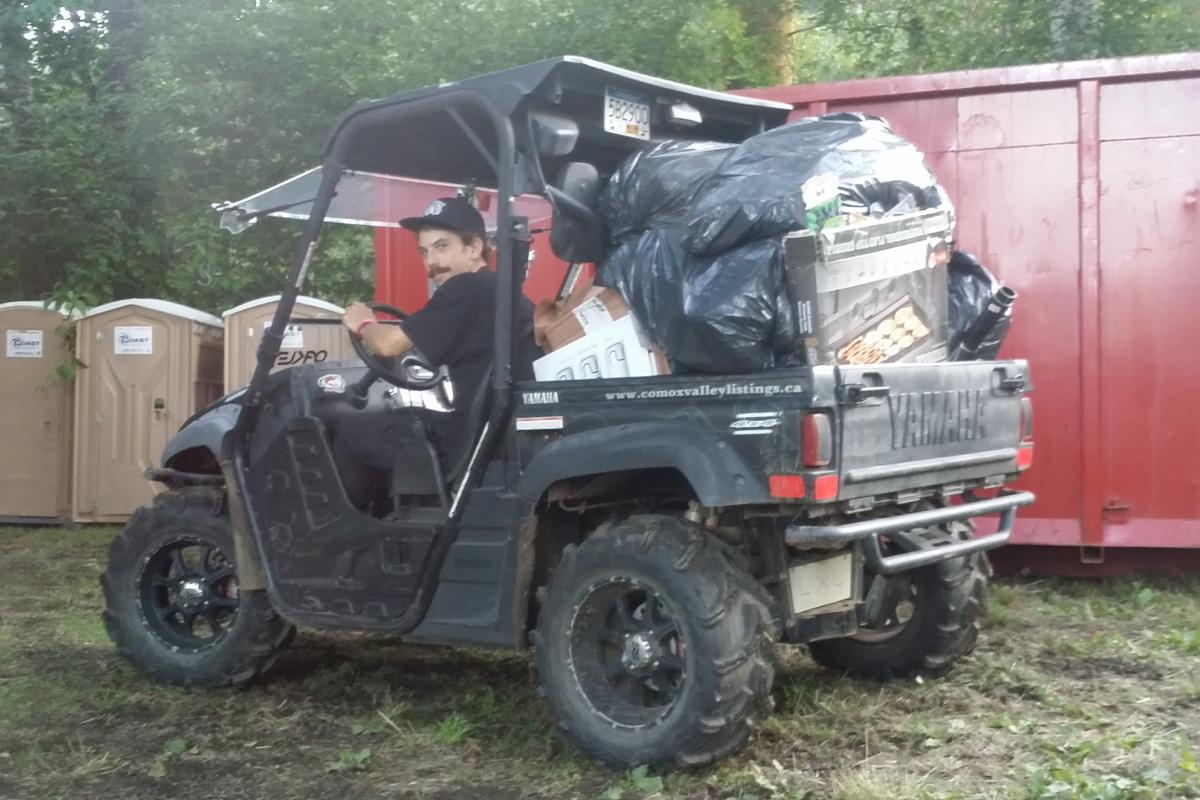 In this post, the MA SLM student Tosh Koroscil shares his experience in the SLM 606. Enjoy the reading!
"My role as Green Team Coordinator for Vancouver Island Music Fest was a positive and rewarding experience, albeit a very exhausting one. The requirements of the position were as I expected them to be, and in truth easier to handle than I anticipated. This weekend we experienced a fair amount of rain showers, which kept the audience numbers down a little and therefore less waste being created on site. Overall, I was surrounded with a wonderful crew of volunteers, all going above and beyond their required hours and tasks to contribute to the success of the Green Team. Each individual was passionate about the environment and we had great discussions about the state of our planet and how we can all contribute to the overall health of the environment.
For the VIMF organization, my main deliverable was the satisfaction that the festival site was consistently clean and they received a thumbs up from the Comox Valley Exhibition Grounds. I also have been informed that numerous other coordinators have contacted the production manager to inform them how pleased they were with my duty as a Green Team Coordinator, and their approval of my job well done. I have delivered VIMF with a post-festival report, highlighting successes, struggles, and future recommendations on where room for improvement can occur as well as suggestions from my volunteer crew. Unfortunately due to bureaucratic and financial restrictions, many of our proposed ideas regarding reducing waste on site have been met with a lack of enthusiasm. Not that the festival itself does not want to continue reducing their carbon footprint and improve sustainability on site, simply the budget, feasibility, and reality of many situations result in the most financial and time efficient methods taking precedence over the (usually) more costly sustainable solutions. Hopefully throughout the year my discussions with the festival can continue to develop and we can come to some compromises on how to meet both needs (saving money and saving the planet).
Overall some of the key highlights were meeting a ton of new people who are all passionate about protecting the environment and contributing to society in their individual and collective ways. We had some great discussions, built friendships, and increased our community capacity through collective action. I have recruited a number of them to be on my green team for future festivals in the Comox Valley and I am thrilled to have worked with such a positive team.
I also learnt a great deal about the greater organization of a large-scale event as I attended all the pre-fest meetings with coordinators from 30+ different crews. It was very applicable to my past experiences with festival organization, and allowed me to watch/learn how the big-shows really go down, and all the behind-the-scene work that it takes to make such a magical event come to fruition. This internship has certainly continued to stoke the fire that is my passion for festivals and the positive relationships that can arise through them. I look forward to working with and contributing to the VIMF for many years to come.
I feel my role as Green Team Coordinator is linked to sustainable leisure in a number of ways. The VIMF is a leisurely activity for almost everyone involved. There are the tens of thousands of attendees who make their way out to the festival grounds for a weekend of socializing, dancing, music, and entertainment. The musicians, who albeit paid, are still out there enjoying their time and doing what they love to do most: playing music. Then there are all the countless volunteers who make free time in their lives to come and contribute to the collective success of the community and are rewarded with the social sustainability of the festival.
As my role on the Green Team, it was our responsibility to ensure that the event grounds were clean and taken care of. They needed to be returned to the Comox Valley Exhibition Grounds organization in the same manner they were presented. The environmental sustainability of the event depended on our efforts to collect and sort through all the waste, resulting in a major diversion of waste entering the landfill.
All this contributes to the economic sustainability of the event as well. The Green Team Crew put in close to a total of 1000 hours of volunteer work throughout the weekend. This is a service that the festival otherwise would have needed to pay for. We also then diverted a ton of waste from the landfill (which is costly to dispose of), sorted out a fairly large refundables return (have yet to hear the number, but it was well over $2000).
At the end of the weekend, although everyone involved is exhausted and dirty, we are all left emotionally and spiritually uplifted from the collective action we all took to create a more sustainable event. New relationships have been created, and the cohesion of our community is only stronger because of it. I have left all my energy out in the field, and time to take some much needed rest and relaxation, reflecting on the wonderful experience finally completed, and preparing for the following events I am working for this summer/fall (Cumberland Wild and Woodstove Festival).
Hope you're all having a great summer wherever you may be!