VIU may not be located in the Arctic, but it has been a lead player in projects with six other circumpolar universities aimed at creating and mobilizing knowledge on the tourism issues experienced in the most northern and peripheral regions of the world. Working together with the University of Lapland and Oulu University (Finland), Umeå University (Sweden), UIT The Arctic University of Norway (Norway), the University of Iceland (Iceland), and Nippising University (Canada) since 2014, VIUs Suzanne de la Barre (Department of Recreation and Tourism) has been involved in the development and delivery of two initiatives: The University of the Arctic's Master's Certificate in Northern Tourism, and a three-year research project titled: Arctic Tourism in Times of Change.
The pilot initiative of the Master's Certificate in Northern Tourism was funded by the Norwegian Centre for International Cooperation in Higher Education's High North Programme, and is presently supported by the Nordic Council of Minister's Nordplus programme (ending 2020). The certificate provides students with a learning experience focused on tourism issues as they are experienced in the peripheral places across the northern circumpolar world. The certificate is issued to master's level graduate students upon successful completion of a circumpolar field school and two online courses. To date six VIU students have participated in a circumpolar field school (1 in Yukon; 3 in Norway; 1 in Finland; 1 in Sweden), and three have been issued the certificate of completion. For more information on the UArctic Masters in Northern Tourism Certificate, go to: https://www.uarctic.org/organization/thematic-networks/northern-tourism/
The Arctic Tourism in Times of Change project is funded by the Arctic Cooperation Program, also Nordic Council of Ministers and investigates significant features and challenges related to tourism development: Seasonality (Finland, 2018), Arctic Urban Tourism (Sweden, 2019), and Overtourism (Iceland, 2020).
Seasonality in tourism has been the subject of much scholarship, with important applied (e.g., economic and community development) and theoretical outcomes (e.g., Tourism Area Life Cycle). Our understanding of how tourism functions seasonally, and with what impacts, has shaped destination development in much of the northern hemisphere. In October 2018, we explored seasonality while in Rovaniemi, located on the the Arctic Circle in northern Finland. I was accompanied by MA SLM student, Britta Peterson (graduated February 2019), and together with our partner universities and their students, we investigated the increasing significance of winter tourism in our countries, and discussed the growing importance of the fall and spring shoulder seasons. To access the published report go to: http://urn.kb.se/resolve?urn=urn:nbn:se:norden:org:diva-5592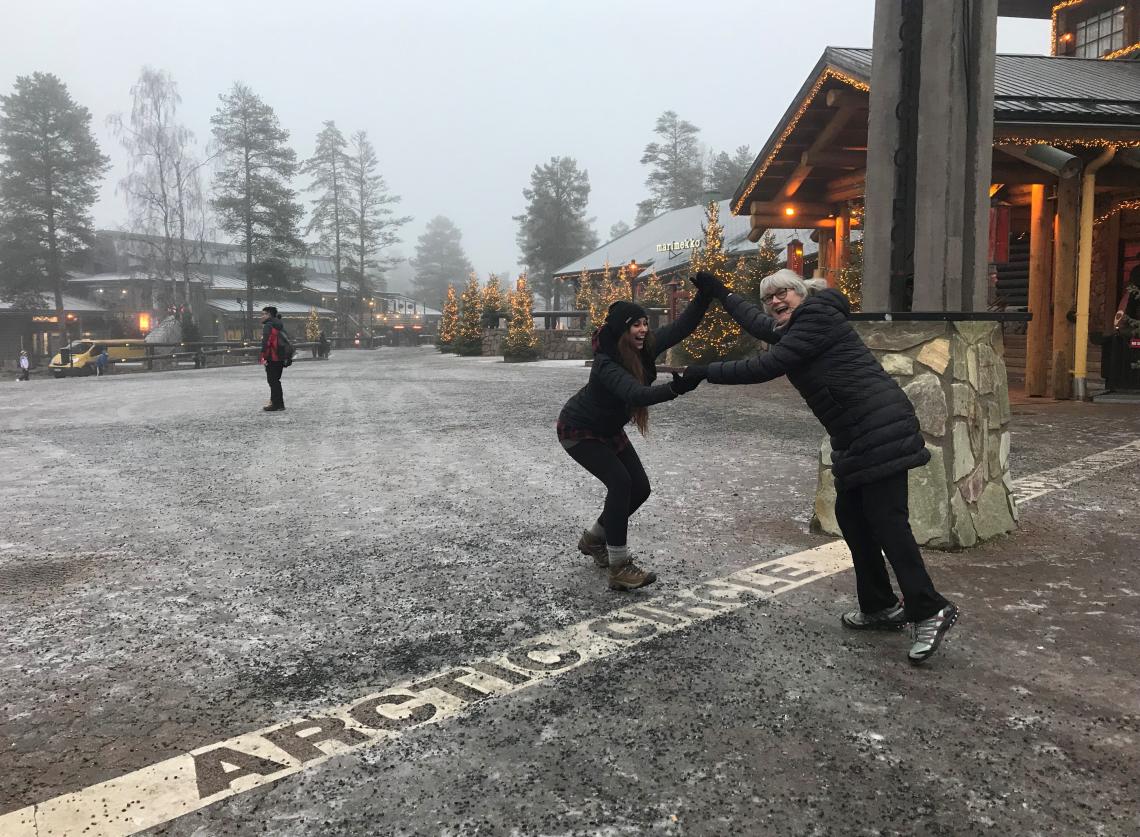 Britta and Suzanne on the Arctic Circle, near Rovaniemi, Finland (September, 2018).
In October 2019, Year 2 of the project investigated Arctic Urban Tourism. Urban growth and the changing role of densely populated areas within remote circumpolar regions has many effects, including those associated with tourism. MA SLM student Alexandra (Alex) Young accompanied me to Umeå (Sweden) where we examined diverse issues together with six faculty and 17 students from across our project institutions. To find out more about the student experience, read Alex's contribution to this blog post which follows this introduction. A report will be submitted to the Nordic Council of Minister's with an anticipated publishing date some time in April, 2020.
Overtourism will be examined in Reykjavik (Iceland) in September, 2020. Through these projects, VIU is proving to be a lead partner institution in the scholarship and educational journeys required to better understand tourism in remote and rural regions in nations that span the circumpolar north. Our aim is to train the next generation of scholars and practitioners, and contribute to the scholarship that plans and manages tourism in a time of climate change and economic diversification in a region of singular importance to Canada, and the world. For more information on the Tourism in Times of Arctic Change project, go to: www.ulapland.fi/ArcticTourism
Dr. Suzanne de la Barre is a faculty member with the Department of Recreation and Tourism and Co-Director, Creative Strategies of the WLCE at VIU. Suzanne was co-instructor of the 2019 field school in Sweden with Associate Professor Outi Rantala (University of Lapland), and a faculty participant in the Arctic Urban Tourism workshop.
Arctic Urban Tourism Field School and Workshop: Student Experience and Learning by Alex Young
Upon arriving in Umeå, Sweden to participate in the Urban Arctic Field School, I had certain expectations that I would see a major urban city, within an Arctic region, and that there would be tourist attractions screaming at me from miles away. Upon arrival, I found a city with a climate very similar to the one on the west coast of Canada at this time of year (fall), and having no signs of anything particularly 'Arctic'. This was my first, not so obvious learning moment that I had during my time in Sweden.
Spending our first days mostly at Umeå University was a great environment to facilitate our learning. I got to network with the other students as well as other professors and professionals in the field. We not only got to learn about tourism in Umeå, but also in the entire Västerbotten region. After our introductory sessions we were divided into groups to conduct our first assignment. Our groups were made up with students from different universities and parts of the world; so we were able to offer unique perspectives towards our topics and towards looking at Umeå as an Arctic city.
My groups' topic was looking at 'sense of place' in Umeå from a visitor perspective, and trying to identify what had an 'Urban Arctic' feel. What we found to be interesting was that we were trying to force a stereotype onto Umeå to fit our expectations of what we were looking for in our research, and it was not matching with reality. Umeå was certainly an urban community, with a major university and a major hospital. It was also a hub for all of Västerbotten and beyond, including for those coming from nearby Finland. We could definitely see how it was an urban environment; but we had a hard time fitting the Arctic piece into what we were finding.
After much reflection and with the ethnography methods we were using in our research, we came to the conclusion that just because the Arctic wasn't blatantly present in every way we thought it should be, did not mean that Umeå is not Arctic in itself; we considered its location geographically, its seasonality in climate, and also the fact that it is a hub for other smaller communities.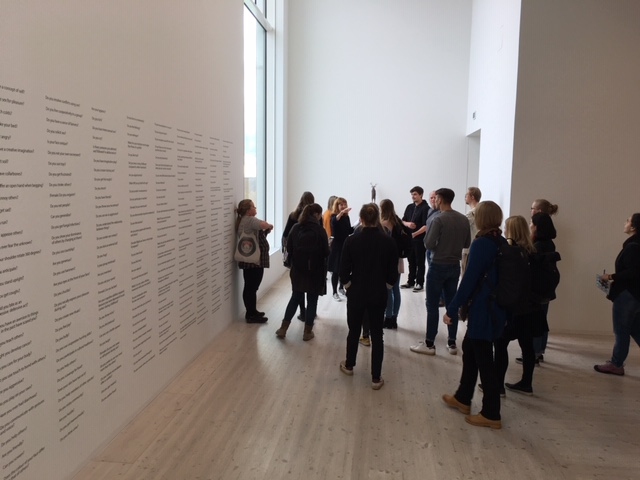 Field school students on an excursion to the Umeå Art Gallery (October, 2019).
The Sweden field school learning has allowed me to look at the world in a completely different way. It has also encouraged me to not let stereotypes get in the way, even when travelling to new places. Applications of this learning will be seen throughout my own research for my thesis work, as I feel I finally have a proper grasp on what "ethnography" is. This opportunity will benefit me for a lifetime because it was such a unique experience academically, in terms of the networking with other peers, and also due to learning – not only about tourism, but also about culture, community, and the Arctic and how important it is to protect that region of the world.
Alexandra Young is a 2nd year student in the Sustainable Leisure Management Program at VIU.