Sustaining entrepreneurship in Powell River
By Pranav Reddy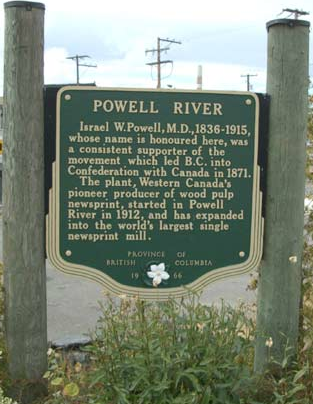 The moment I got off the ferry at Powell River, I had a vague idea about what life may be like in this isolated city, far away from major urban centers and gifted with a beautiful waterfront; this city is unique in many ways. After speaking to the residents of the city and going through the information regarding the economic growth and business development in Powell River, I found my topic. Powell River is an exciting place to live, work and raises a family; many people come to Powell River and establish an enterprise with a sole aim of maintaining a desired lifestyle. But the information I gained through personal interviews provided a stark picture on entrepreneurship in Powell River. A significant proportion among these life style enterprises are unable to sustain their businesses in the long run and had to close their enterprises within 3 years.
Sustaining entrepreneurship in Powell River is a vital task and there is a need to understand the challenges faced by entrepreneurs from diverse perspectives. After speaking to some of these lifestyle entrepreneurs and other individuals who are involved in supporting entrepreneurship and economic development of Powell River, I was able to understand and gain an informed perspective on the prevailing situation. Entrepreneurs need to create a long term business plan, try to connect with external markets and create innovative products that can overcome the isolation and remoteness of the city. The support system that is in place should be strengthened with additional funds and an active collaboration between different agencies that are part of this support network.

I did some online research and was able to identify different communities around the globe with the same set of challenges who crafted innovative solutions and supported local entrepreneurship. First example is from USA. Silver city in North Carolina is similar to Powell River in many ways including a history of resource dependency and a transition period that made it difficult for sustaining entrepreneurship, the city in partnership with the local community college created an arts and small business incubator right in the down town, this incubator provides training programs for entrepreneurs and small business operators. Powell River can collaborate with Vancouver Island University Powell River to create a similar incubator with a focus on entrepreneurship, lifestyle sports and traditional crafts. This centre can train and support entrepreneurs, add vibrancy to main street, attract visitors and create a niche market.

Coolah, in New South Wales, Australia is a small city that survived on a local saw mill for much of its history, and when the mill got shut down there was panic among the residents of the city with many sensing death of the community. This fear bought in unity among the residents and led to the creation of a civic engagement organization which campaigned and secured funding to revitalize the main street, Main Street was promoted as the heart of the community and local enterprises received support, this change in attitudes helped businesses in sustaining their enterprises and saved the community from economic devastation. Powell River can follow Coolah in encouraging community participation in the local business scene and help secure community support to entrepreneurs.

Prince Edwards County in Ontario is a small community which relied on agriculture, and when agriculture turned unprofitable due to global structural changes, youth started leaving the community. The local government realized the need to create a sustainable future for the city and focused on its amenities, with investments on system amenities including art galleries, theaters and creating links between tourism and agriculture. The city created a niche for itself, amenity gaps were addressed and system amenities were built. Small businesses were encouraged to participate in this process and they contributed significantly in establishing a thriving tourism sector. Powell River can focus on its amenities, understand its strengths and address the gaps. This approach can provide new strength to the local businesses and can encourage potential entrepreneurs to create innovate products with a focus on promoting amenity based development.

Powell River has a lot of potential and the amount of activity being done to craft a sustainable path for the city is an encouraging sign. The city will be able to realize its potential as long as it is open to ideas and entrepreneurs can facilitate this change and add energy to this unique community.
Download the full report
here.