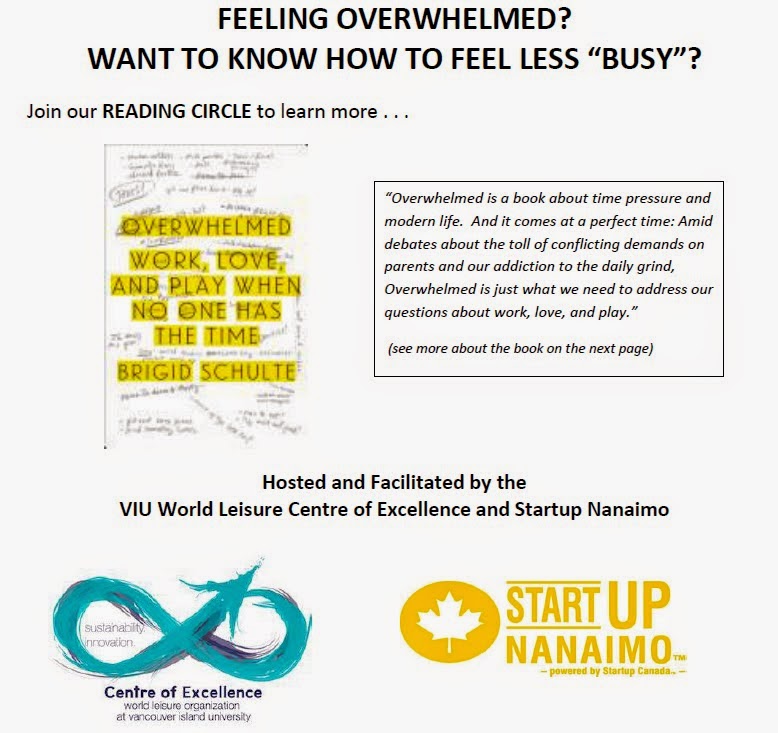 What: A reading circle is a group of people who get together to explore a topic in further detail through the medium of books.
When:
Kickoff Event Monday, January 26
th
, 5:00 pm – Each Reading Circle team will meet 2 or 3 times between January 26
th
and April 6
th 
Where: Kickoff Event at Fibber Magees, 321 Selby Street, Nanaimo 
More about the book . . . 
According to the Leisure Studies Department at the University of Iowa, true leisure is "that place in which we realize our humanity." If that's true, argues Brigid Schulte, then we're doing dangerously little realizing of our humanity. In Overwhelmed, Schulte, a staff writer for The Washington Post, asks: Are our brains, our partners, our culture and our bosses making it impossible for us to experience anything but "contaminated time"? 
Schulte first asked this question in a 2010 feature for The Washington Post Magazine: "How did researchers compile this statistic that said we were rolling in leisure-over four hours a day? Did any of us feel that we actually had downtime? Was there anything useful in their research-anything we could do?" 
Overwhelmed is a map of the stresses that have ripped our leisure to shreds, and a look at how to put the pieces back together. Schulte speaks to neuroscientists, sociologists and hundreds of working parents to tease out the factors contributing to our collective sense of being overwhelmed, seeking insights, answers and inspiration. She investigates progressive offices that are trying to invent a new kind of workplace; she travels across Europe to get a sense of how other countries accommodate working parents; she finds younger couples who claim to have figured out an ideal division of chores, childcare and meaningful paid work. Overwhelmed is the story of what she found out. 
More about reading circles . . . 
What is a Reading Circle? 
A reading circle is a group of people who get together to explore a topic in further detail through the medium of books. Reading circles work best with 5 or 6 participants: one person is the facilitator, another is the note‐taker, and all members contribute equally to the discussion through insights and questions relating to or derived from the readings. 
How it works: 
 Participants are divided into groups of 5‐6 at Reading Circle Opening Event 
Small group facilitators will be introduced 
Small groups schedule first meeting at Opening Event and agree to meet again once or twice 
Groups can decide how to divide readings (read all then discuss bits or read a few chapters at time) 
Participants are encouraged to join our Facebook group and participate in discussions at: www.facebook.com/worldleisureviu
More about the World Leisure Centre of Excellence . . . 
The World Leisure Centre of Excellence at Vancouver Island University brings together scholars, practitioners and public audiences from around the globe to share innovative ideas, engage in dialogue and collaborate in research and learning around the concepts of sustainability and innovation. We believe that sustainability starts with the concept of "self- sustainability" and individual well-being, concepts discussed at length in the book Overwhelmed and we look forward to engaging others in conversation about how leisure can play a more central role in our lives to achieve greater balance. 
More about Startup Nanaimo . . . 
Startup Nanaimo (SN) is a grassroots driven group dedicated to creating more entrepreneurs and innovators in the Nanaimo area. We are a team of volunteers that partner with organizations to organize and implement a number of projects/events throughout the year that bring together entrepreneurs, innovators, developers, designers, creators, artists and change-makers in a fun, educational and social way.